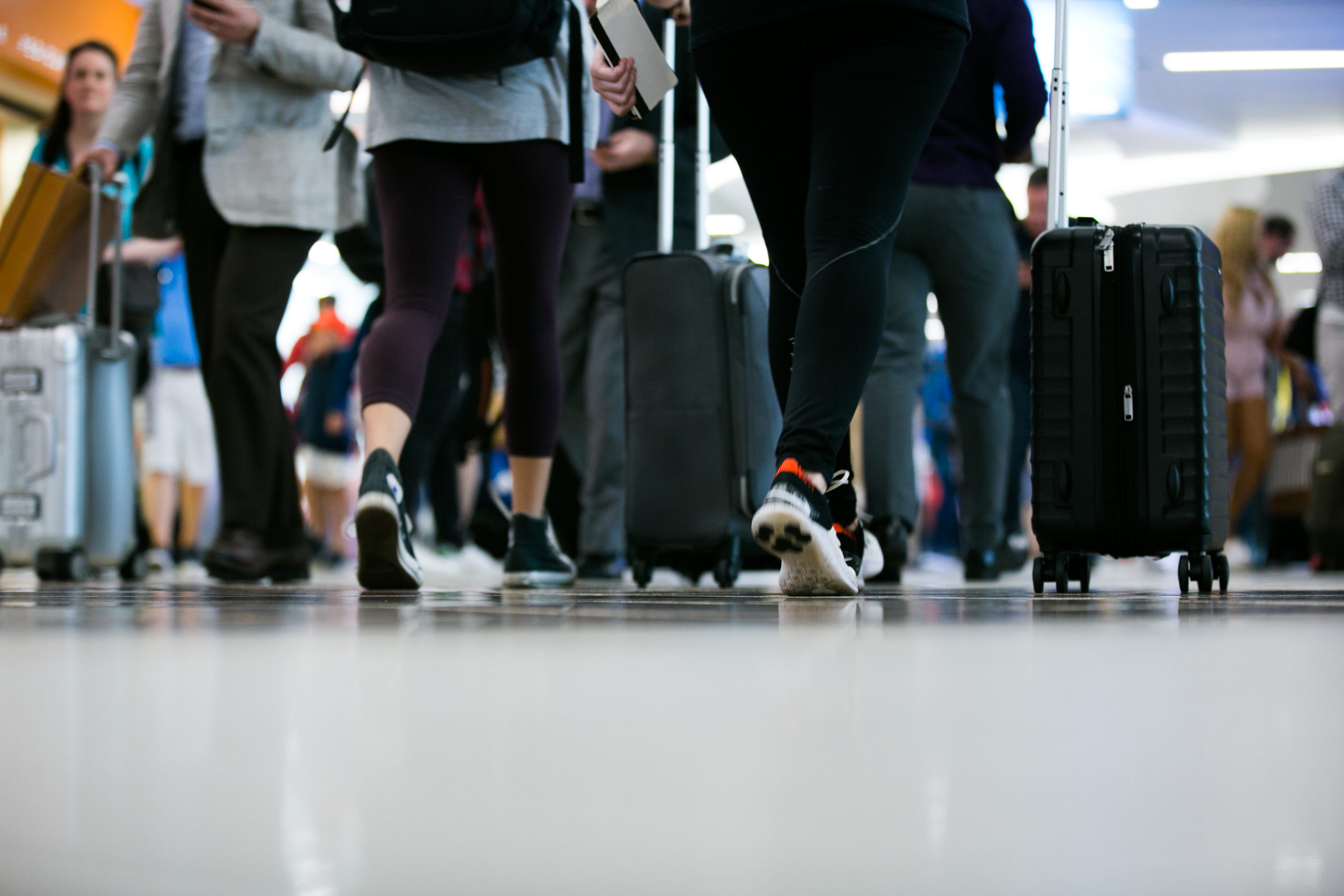 5 Ways to Ease the Stress of Holiday Travel at ATL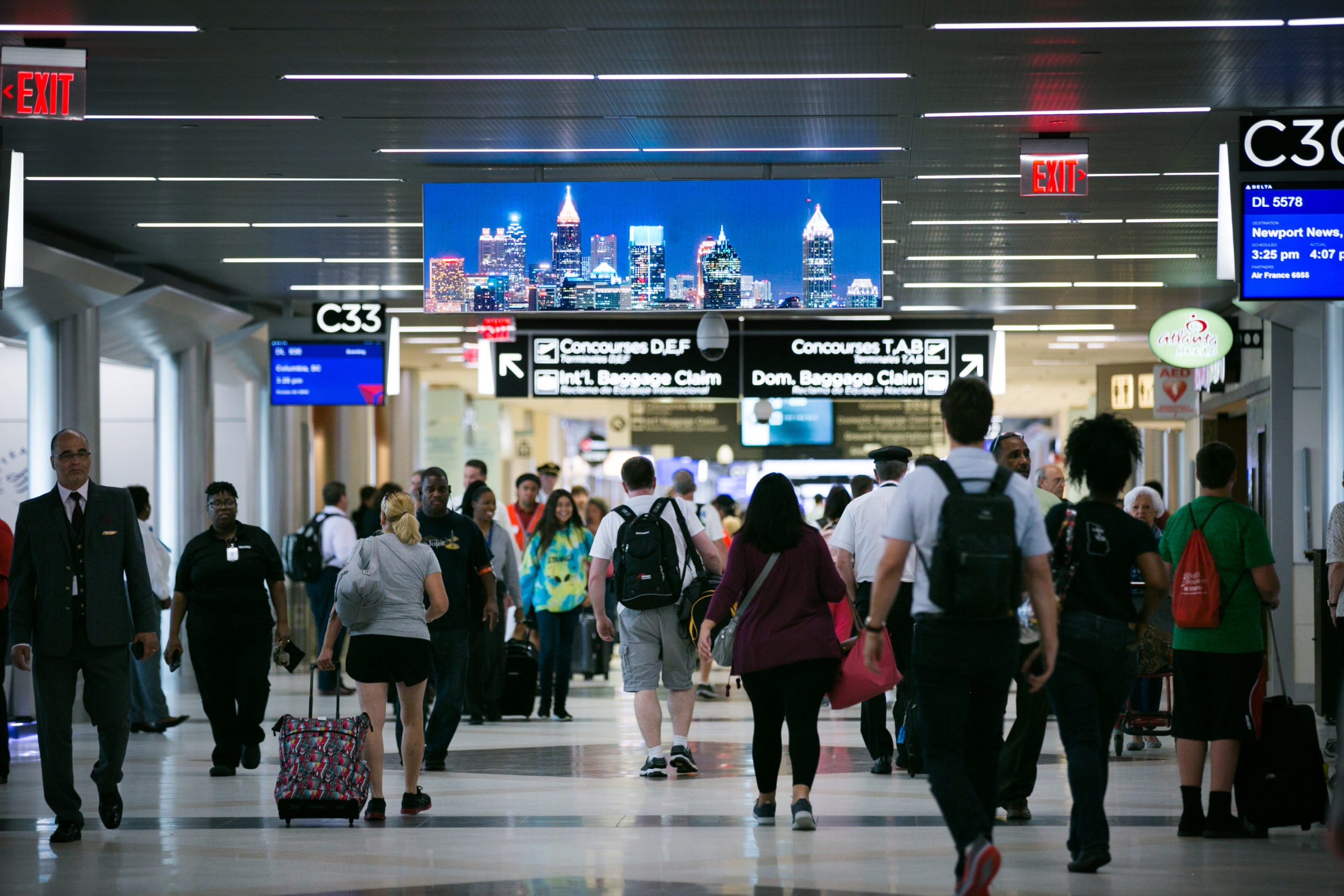 By Jennifer Ogunsola
Communications Manager
Traveling under normal circumstances can be stressful. But what happens when you add the busiest holiday season at the world's busiest airport to the mix?
Most likely, the first things that come to mind are thoughts of delayed and canceled flights, of clogged roadways, and lines stretching beyond the horizon. Visions of lost luggage, overbooked flights, and every other stress-inducing travel scenario dancing in heads, and magnified significantly during this time of the year. Yes, the rush and uncertainty of holiday travel is inevitable. But feeling stressed doesn't have to be. One of the most important things to remember is to remain flexible and have realistic expectations.
Researchers at InsureMyTrip recently released a travel report of the least stressful U.S. airports, and Hartsfield-Jackson Atlanta International Airport (ATL) is considered one of the least stressful airports in the country.
Imagine relaxing, stress-free, and exploring all of the outstanding offerings at ATL—from award-winning restaurants and art exhibits to picking up a few last-minute gifts from one of the best-in-class retail and convenience outlets. Well, take a few deep breaths and know that ATL has been working to make this a reality for you and your family.
Here are five tips to make your travels throughout the holiday season everything that it should be — joyful and full of cheer.
Get to The Airport Early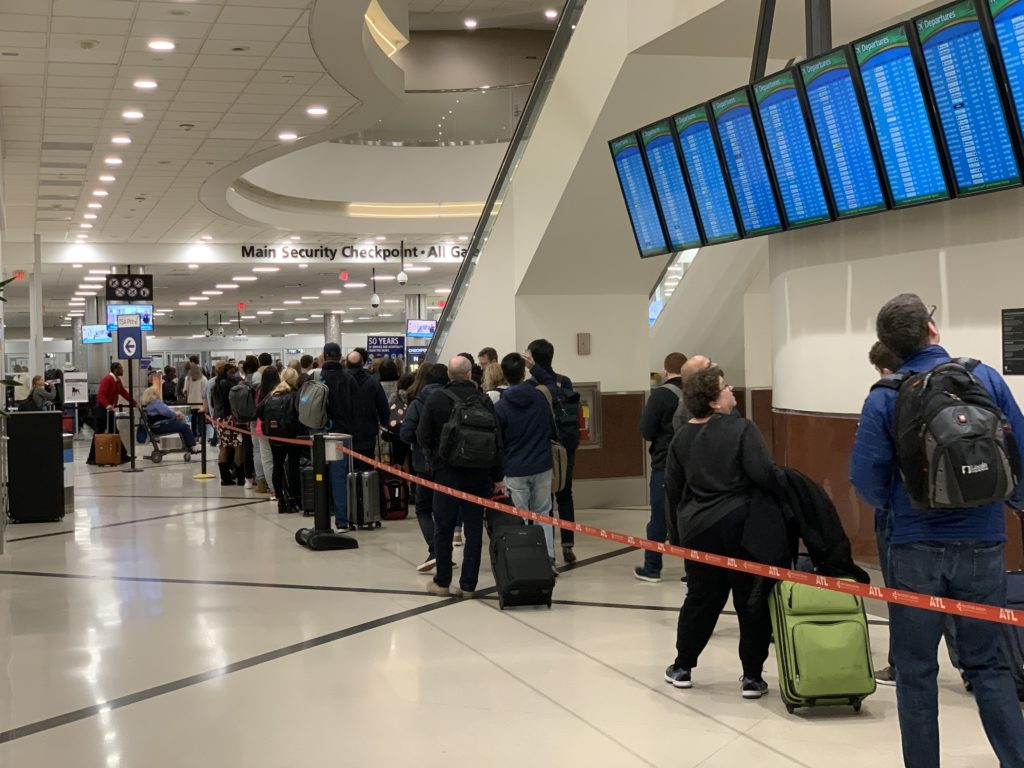 It's probably best if you allow plenty of time to get to the airport
Arrive in the Airport terminal at least two hours before departure for domestic flights times; three hours for international flights.
Use mass transit like MARTA, rideshare options like Lyft and Uber, and taxis.
Visit atl.com for current updates on parking availability, security wait times, flight information and concessionaire information.
Follow our social media channels (@ATLairport) for real-time updates on the airport.
Use the North and South lower roadways for quicker drop-offs and pick-ups.
Pack a relaxation travel kit
When traveling, packing a relaxation travel kit is always a good idea, especially when you're flying during peak holiday season. Because so much can happen that is out of your control, you may want to consider things that can fit in a small pouch that will help you relax, stay calm and avoid unnecessary stress. This kit will change depending on if you are traveling alone or with children. Here are a few suggestions: an iPad or Kindle, earplugs, noise-canceling earphones, snacks, travel pillow, compression socks, portable charger, a day or two of toiletries, and an extra outfit. You are in luck. ATL has over 100 retail locations just in case you forget to add something to your kit. 
Take an Art Walk Tour
If you have extended time before your flight or in between flights, ATL's Art Program, which integrates art exhibits, galleries, sculptures, and performances into the fabric of Hartsfield-Jackson, offers Atlanta's largest art exhibition. There are many elements of beauty and thought-provoking art awaiting you throughout ATL's domestic and international atriums and all seven concourses.
Here are a few exhibits:
"John Lewis — Good Trouble"
A wall display pays tribute to the life and legacy of one of our country's living heroes, located in the Domestic Terminal Atrium.
"Flight Paths"
One of ATL's most popular artworks, Flight Paths simulates a walk through a Georgia forest in the underground walkway between Concourse A and B.
"Youth Art Galleries"
An exhibit of Georgia's K-12 student artwork, which rotates quarterly, located on Concourses T, D and E.
"National Geographic Photo Ark by Joel Sartore"
Photo Ark founder Joel Sartore has photographed over 9,000 species around the world as part of a multiyear effort to document every species living in zoos and wildlife sanctuaries, inspire action through education, and help save wildlife by supporting on-the-ground conservation efforts. ATL is the only airport that has a Photo Ark exhibit. Travelers can experience this exhibit in the Transportation Mall between Concourse A through D.
Relax and Rejuvenate

As the world's busiest, you don't have to wait until you reach your final destination to start your holiday vacation and relaxation time. There are several service locations where you can wind down, get some rest, shower, rejuvenate with a facial or massage, and even get some chiropractic care.
Minute Suites—Concourses T and B
XpresSpa —Concourses A, C, and D
Chiroport— Concourse A
Keep The Kids Happy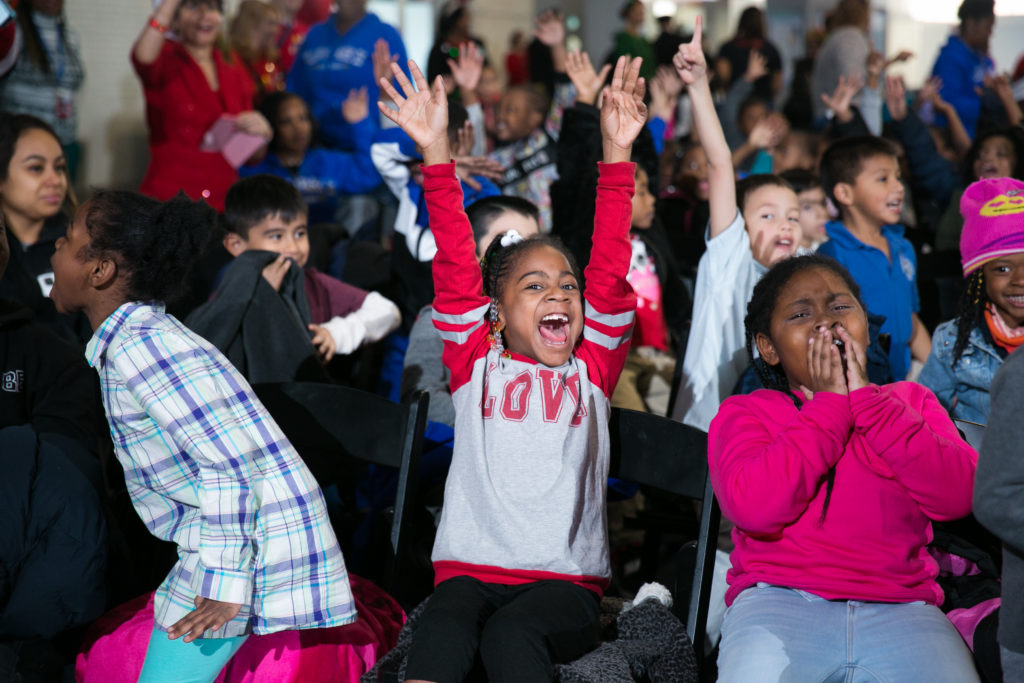 ATL is one of the coolest airports for kids. Several kid-friendly options will help to pass time while keeping the children engaged and having fun.  Maybe it's a ride on the Plane Train —make sure to get on the front or back car, which will allow the kids to get a view of the tunnel as the plane travels to the concourses. If you're up to walking and have some extra time, skipping the Plane Train is a great idea. Walking and using the moving sidewalks will allow them to peek at art exhibits such as Zimbabwe Sculpture: A Tradition in Stone, which features Zimbabwean stone sculptures and even an audio tour.
There is no shortage of dining option at ATL, especially ones that kids love like Chick-fil-A on Concourses A and C, Grindhouse Killer Burgers on Concourse T, and Varasano's Pizza on Concourse A.  And parents, to help make downtime more bearable for kids, don't forget to download their favorite cartoons on your tablet, smartphone or laptop before you leave home. Also, make sure you have extra earphones and backup batteries and chargers.
Happy Holidays and safe travels from Hartsfield-Jackson Atlanta International Airport!