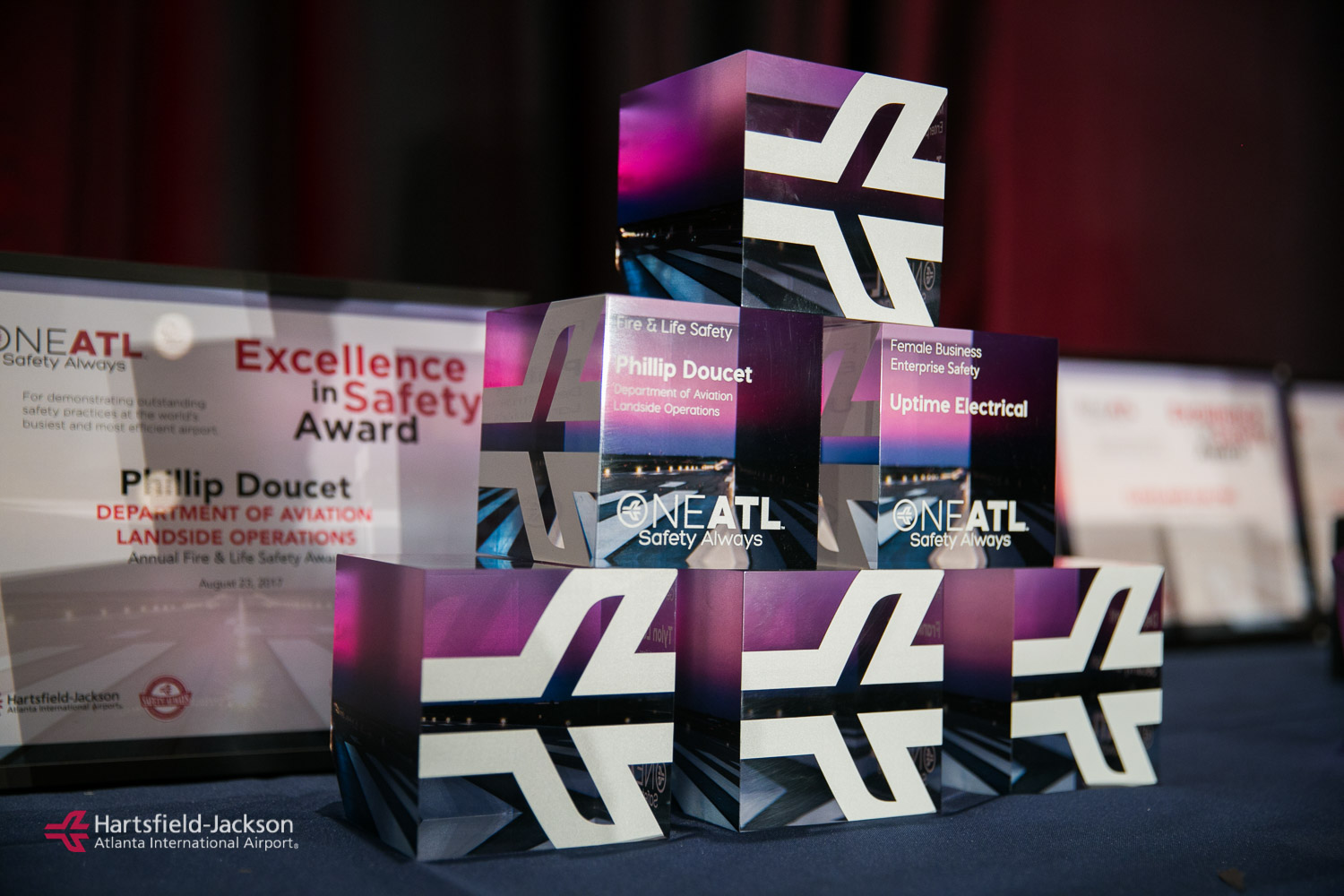 ATL boosts awareness, honors top performers at safety expo
By Anika Robertson
Senior Editor/Assistant Public Relations Manager
Hundreds of Airport employees increased their operational awareness and shared best practices at the second annual OneATL Safety and Risk Management Expo. The conference, held last week at the Georgia International Convention Center, is one of only two of its kind hosted by a U.S. airport.
"Hartsfield-Jackson has a proactive, safety-first culture," said Airport General Manager Roosevelt Council, Jr. during the Aug. 23 event. "We achieve this by clearly defining, or redefining, roles and responsibilities. We achieve this by constantly promoting safety and providing the tools, including training, that are necessary for success."
The day began with the 16th annual ATL FOD Walk in which about 120 ATL employees scoured Runway 8L-26R for debris that could damage aircraft such as hardware, water bottles and even broken asphalt.
Later, hundreds of employees throughout Hartsfield-Jackson gathered at the GICC to participate in workshops to learn about current safety regulations and issues in the workplace.
Safety demonstrations between sessions offered a glimpse of how Airport and airline emergency personnel respond in times of crisis. Southwest Airlines showed onlookers how to remove an incapacitated passenger, deliver oxygen and begin resuscitation. Atlanta Fire Rescue and Atlanta Police officials shared what happens once someone spots a suspicious package.
ATL's Safety Management System Manager and event organizer Scott Ayers said this year's expo saw more participation from Airport stakeholders and partners, including Delta Air Lines, Kone, 3M, Southwest Airlines, MOPAC Plant & Building Services, and Occupational Safety and Health Administration.
Keynote speaker W.E. Scott, former director of consulting services for the National Safety Council, discussed how to lead by setting an example in behavior and attitude, regardless of role.
"Everybody can be a leader," Scott said. "Someone is watching us all the time. No matter where we are or what we do … you have to say, 'Is this something that I want someone to see?'"
"Being safe at work allows us to do what we really care about," Scott said.
ATL officials recognized a number of businesses and employees for their emergency preparedness and leadership that keeps the world's busiest airport safe.