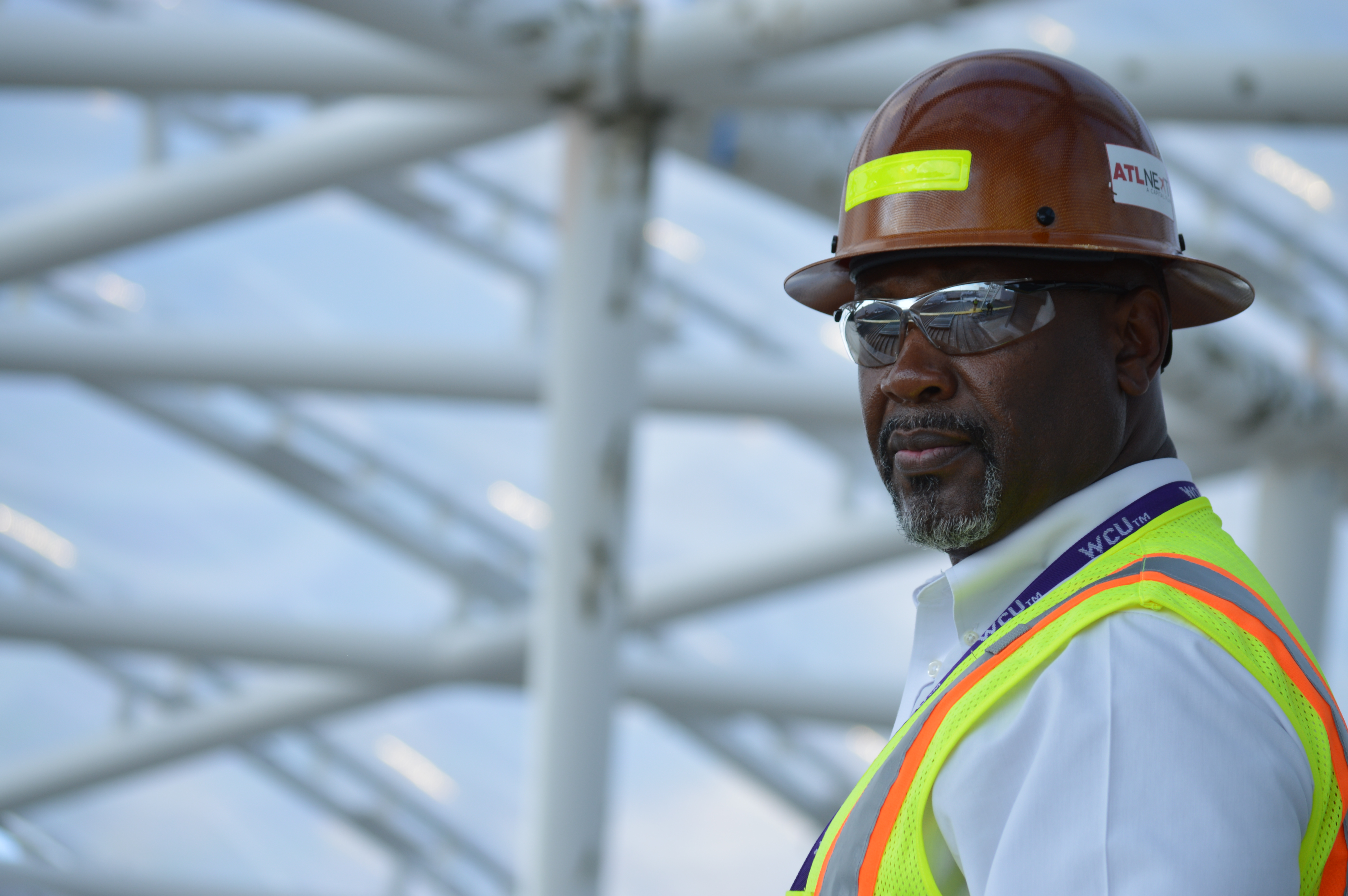 ATL Stories REVAMPED: From the Football Field to the Airfield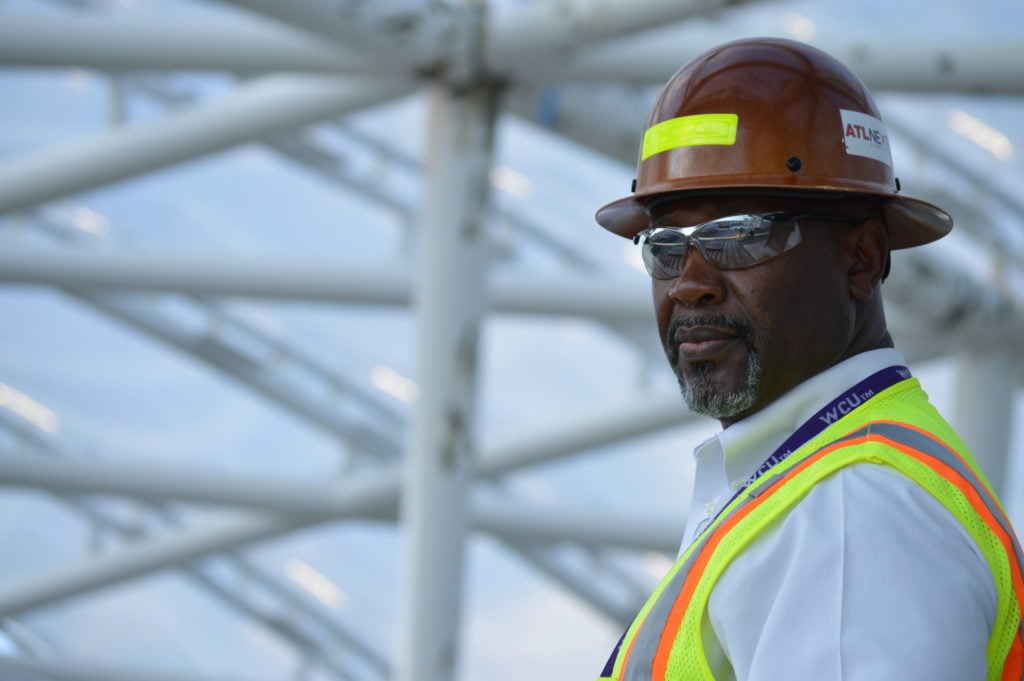 By Jennifer Ogunsola
Communications Manager
Within minutes, his dream of playing professional football came to an end when he experienced a career-ending injury.
Nearly 30 years ago, Thomas Wilson was a senior at Florida State University and star defensive back from Tallahassee, Florida. Immediately after the injury, Wilson had to make a decision that would impact the rest of his life.
"The injury actually did more for me than anything else because it really painted a clear picture that, as an athlete, you're one injury away from that being taken away," Wilson shared.
"It forced me to concentrate more on my academics, and I knew that as long as I was of sound mind, I could always support myself. Luckily, as a young college student, I realized that my legs would give out before my mind would."
His decision to pursue an engineering career in 1989 led him to the world's busiest airport in 2007. And today he's the program safety director for ATLNext, a 20-year, multibillion-dollar capital improvement program.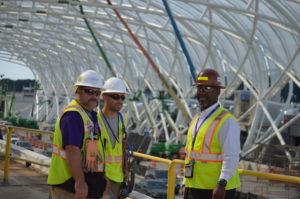 The father of 22-year-old twin boys knows the importance of being intentional, working hard and giving back, traits that he credits to his selfless mom, whom he affectionately calls his hero. In this interview, Wilson gives us a little insight into who he is, his most valuable life lessons and how he landed at the world's busiest airport to lead a globally recognized safety program.
Tell me a little about your upbringing.
I grew up in Tallahassee and was raised by a single mom, who is my absolute hero. Growing up, it was just me and my brother — and I'll be honest — it was extremely tough for us. My mom cleaned houses for a living, making about $3,000 a year. As a child, I used to hunt and fish, except it wasn't a sport for me. It was truly survival.
Learning how to survive is an important skill.
Absolutely. I'm not a wasteful person and I manage resources well. I hate to see people squander things because I understand what it's like to need and not have, to want but can only look, and to wonder and dream. And, I wouldn't change a thing about how I grew up.
My mom and grandmother made many sacrifices for me, so I always felt like I owed it to them to give my absolute best no matter what.
Have they been able to see how successful you've become?
They are all deceased, but they saw me as I started to emerge. In their passing, after mourning, it allowed me to grow stronger, become more determined and focused, and make sure that I share or allow someone else to benefit from my lessons and blessings.
Was college always in the plans?
When I graduated from high school, I had an opportunity to be the first person in my family to attend college when I received a football scholarship. I attended Florida State University where I majored in civil engineering. I played football throughout college, and I wanted to go to the NFL, but I had a major injury.
Did that break you?
Not at all. There are so many life lessons that I learned from sports. I learned that when it comes to success, there are no shortcuts other than hard work, and you must put in the time. You might have talent, but you have to develop it and I think those are the things where you had to reach down and kind of find out who you are.
How did you find your path after college?
Upon finishing school, I had an opportunity to move out west to Southern California and get involved in renewable energy. I happened to work for someone who took me under their wing, which allowed me to expand my knowledge on everything from construction to environmental transportation.
I had the opportunity to enroll in risk and safety, and then had opportunities to travel and broaden my career by working on many projects throughout the country. After doing that for roughly 15 years, I found my way here to Atlanta.
How did you land at Atlanta's Airport?
In 2007, I was introduced to the Airport's former assistant general manager of the Planning and Development division and was given the opportunity to step in and take a look at the program to get a firm understanding of what was going on. I then put forth safeguards and policies, making sure that we had the right people to do proper vetting of contractors.
What is your current role at Hartsfield-Jackson Atlanta International Airport?
As the program safety director, I make sure that we're in compliance with all of the federal, state and local safety guidelines. I work to ensure that ATL is covered from a safety perspective on all projects, and that includes making sure that with any of the project contractors that the City brings on board, we understand where some of our risk exposures lay, and make sure that we can do two things: put forth proper safeguards to ensure that everyone goes home safely and complete the project in a timely manner without incident.
Since working for ATL, what have been the most rewarding projects for you?
The two most rewarding projects that I've worked on at ATL is the Maynard H. Jackson Jr. International Terminal and the Rental Car Center.
The International Terminal was just a massive undertaking as far as the sheer size, the number of contracts, the number of trades, and the vast diversity of people. Being totally immersed taught me so much, and I would say the same thing for the Rental Car Center. For both, working with the men and women associated with the project in order to come to that one common goal of completion was rewarding.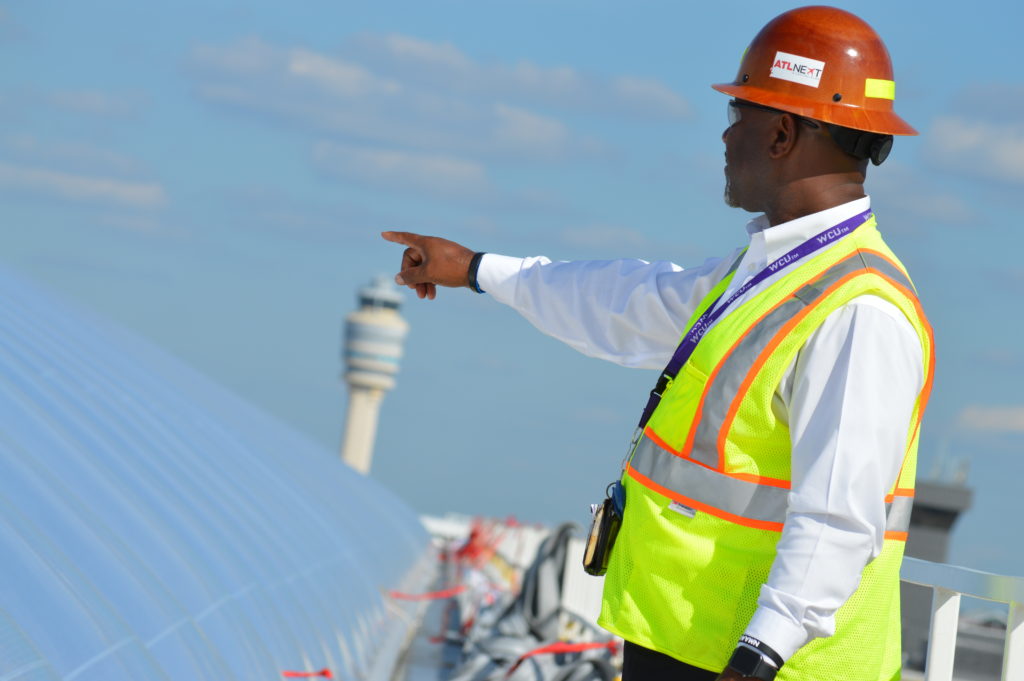 You have a very interesting life story. What are you most proud of to date?
The most rewarding job I've ever had was being a father to my 22-year-old twin boys. I work extremely hard to give them the very best that I have, and to watch them grow up and develop into amazing young men has been a true gift for me. I'm proud of who they are and what they've accomplished.
I try to use my lessons to help, teach and empower others. You may be very fortunate where you are, but know that somewhere a door opened for you even if you don't know who opened that door. I teach my sons and others to find a way to open doors for others.
* This story was previously published.