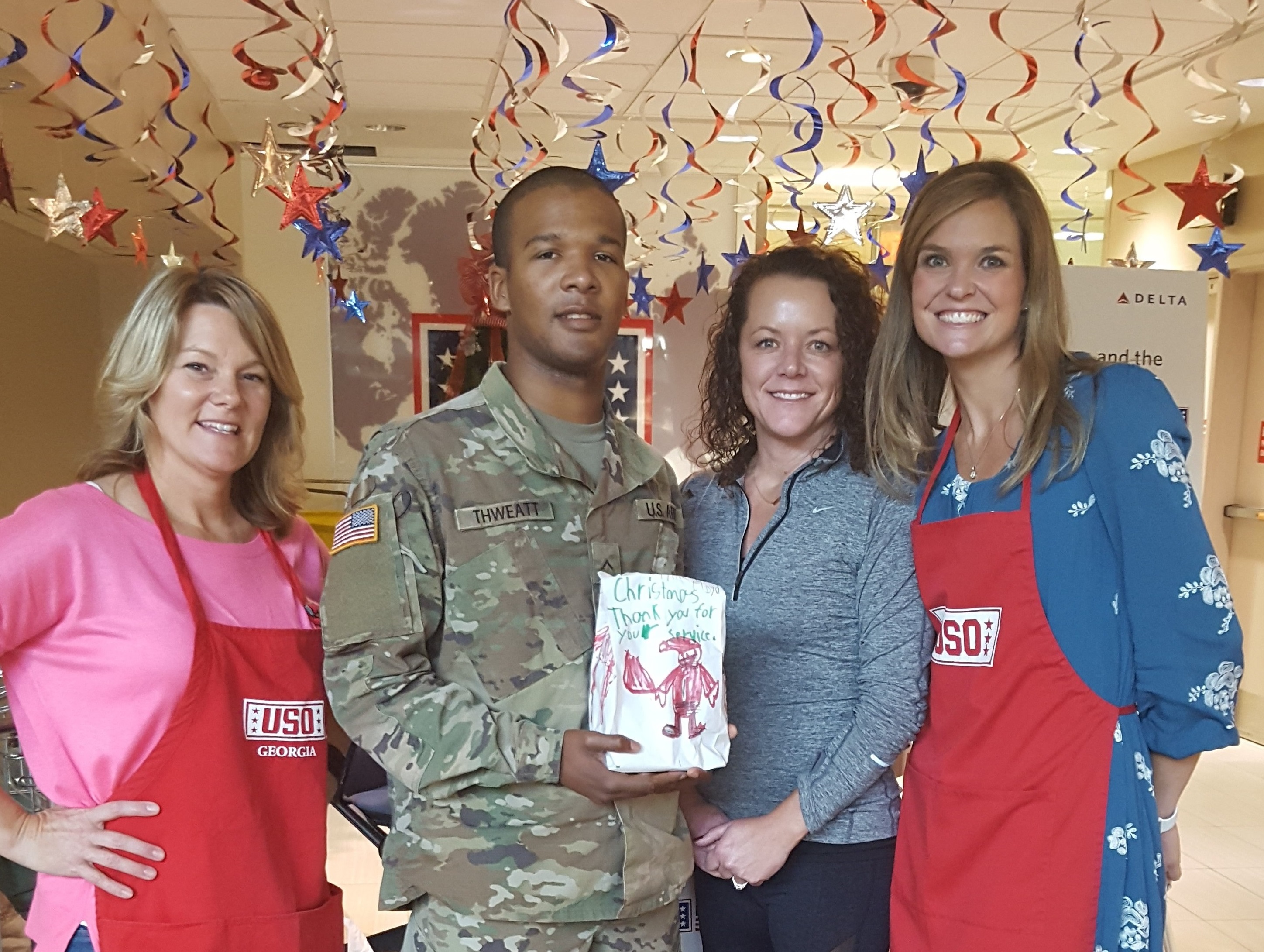 Coming home for the holidays, soldiers enjoy USO Center
By Anika Robertson
Senior Editor/Assistant Public Relations Manager
Heading home for the holidays is always a blessing, especially for our soldiers stationed all over the world. During the week of Christmas, approximately 6,000 service men and women travelled through Hartsfield-Jackson on their way home. Many stopped at the USO Center, the recently upgraded 3,200-square-foot facility on the third floor in the Domestic Terminal atrium.
Mary Louise Austin, president and CEO of USO Council of Georgia, Inc. runs the Center at ATL. Austin started with USO 48 years ago and is deeply committed to the organization. "I'm here every day [over the holidays]," she said. "It's very wonderful to be able to spend it with others who are serving our country."
The vacation time that is given to all soldiers for the holiday is referred to as holiday block leave, and it is a festive time at the USO Center. Guests have the benefit of receiving a warm welcome from volunteers and staff before they enter the facility. They receive a hand-crafted lunch bag filled with treats, and the outside artfully decorated with messages and drawings from local elementary school students. Once inside, soldiers can enjoy a buffet-style meal, Skype, watch television, relax, and enjoy gratifying amenities comparable to an airline club.
"This center is their home away from home," Austin explained. "We help [soldiers] with their orders, lost luggage or if they don't know where their next station is going to be. We help them with communication, transportation assistance, missed flights, food and beverages."
Trei Thweatt, a new army recruit, recently visited the USO Center during his stayover at ATL on his way home to Maryland. The 19-year-old enlisted at a Washington Redskins football game this past July and just completed basic training.
Son of an army field artillery specialist, Thweatt loves his career choice. "I always wanted to be a soldier. Most important is the comradery, the brotherhood. We get to do a lot of cool stuff, like dismount operations, [and] riding around in Strykers and Humvees," he explained.
Right now, Thweatt is looking forward to spending time with his family. "I haven't seen my family in about a year," he said. "[We] are pretty close, so definitely looking forward to seeing them." The Silver Spring, Maryland native plans on having Christmas dinner at his grandmother's home in Washington D.C. with his extended family, but appreciates the Southern hospitality of the USO.
"The USO [Center] is amazing. The volunteers here, the food," Thweatt said. "I remember when I was a kid, I would [decorate lunch bags] for soldiers. I would write letters to them, so when I see that [here], it reminds me of when I was in elementary school."
He views his army life as an adventure and is preparing for his time at Ft. Wainwright, a military base near Fairbanks, Alaska, where he'll be stationed beginning January 2017.
The volunteers keep the center running 24 hours a day, seven days a week over the holiday season. "We have a wonderful volunteer corps that represents all segments of the community," Austin said. "They come daily, and we provide a lot of hospitality for them. That's what Hartsfield-Jackson is known for and we want to keep up that image."
"Now it's very happy, you see [volunteers] giving out gift bags and giving them treats," Austin continued, "and they're happy to go home. But come Jan. 1, [soldiers] will be back here again."
Founded in 1941, the United Service Organization is a private, nonprofit organization with 160 centers around the world, the majority of which are near military bases and airports across the U.S. Its primary mission is to support the active men and women of our country's armed forces.
Between 8,000 and 10,000 troops are expected to travel through Hartsfield-Jackson during the first week of January, and Austin anticipates large crowds at the USO Center. "A lot will be returning from holiday block leave, but the new enlistees will be going into training," she said. "And when they return, we're here to cheer them up to let them know we're here for them and we look forward to their graduation day."