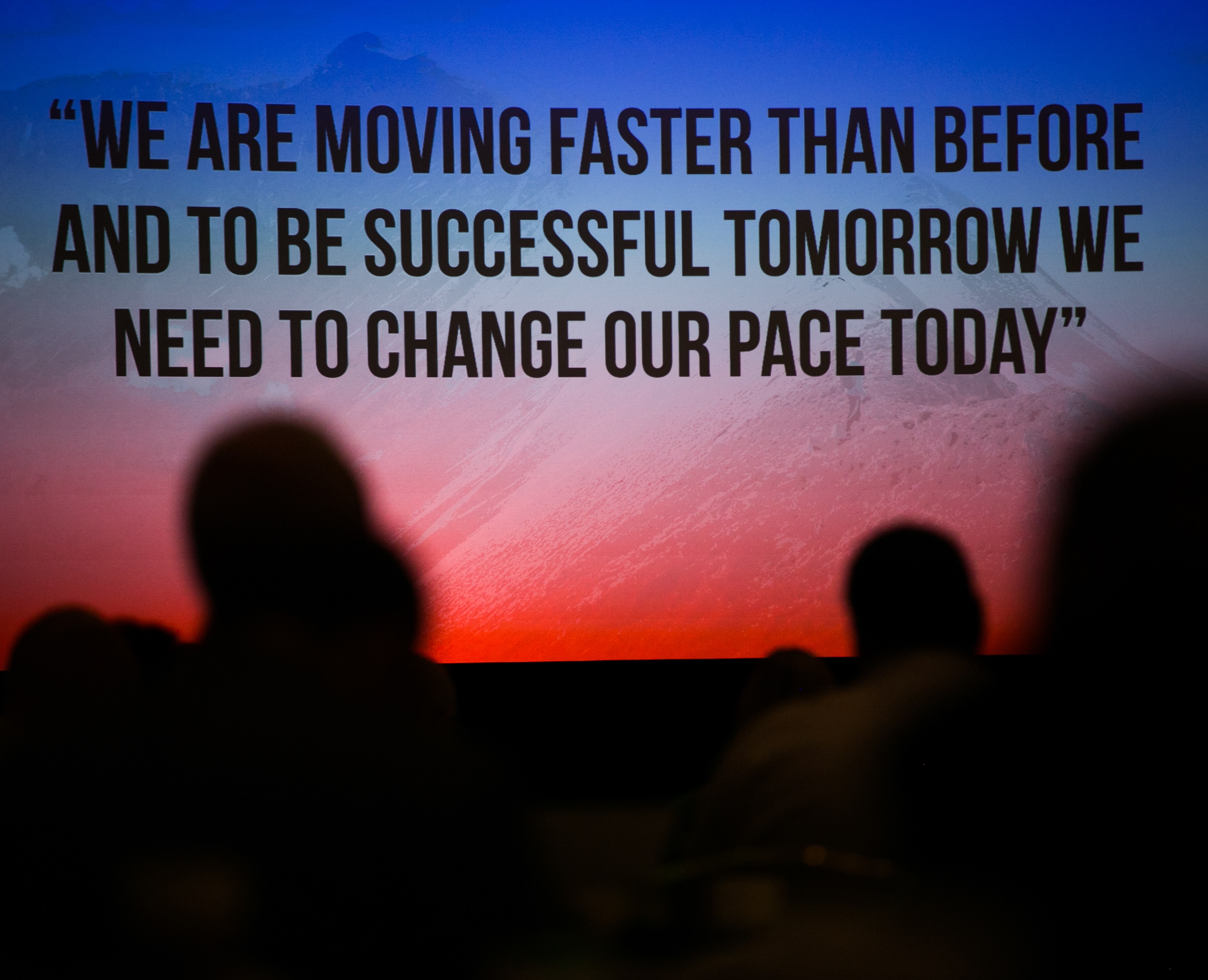 Innovation Forum envisions airports of tomorrow
Emerging technology expert Ian Khan urges change at the fourth annual AAAE Airport Innovation Forum July 17 at InterContinental Buckhead Atlanta. © 2018 Decisive Moment Events
By Anika Robertson
Senior Editor/Assistant Public Relations Manager
Airport leaders preparing for self-driving cars, virtual reality and artificial intelligence gathered to share what's in store for passengers in the not-so-distant future as Hartsfield-Jackson hosted the fourth annual AAAE Airport Innovation Forum July 16-18.
"Long before Hartsfield-Jackson became the world's busiest airport, or most efficient airport, or the best airport for dining and shopping, it was a hub of innovation," interim Airport General Manager Balram "B" Bheodari told attendees at the InterContinental Buckhead Atlanta during the July 17 welcome.
Bheodari said Hartsfield-Jackson remains on the forefront of change since ATL's revolutionary design of its passenger terminal in 1980. Nearly 40 years later, he said, the Airport continues to search for new ways to enhance operational efficiencies and improve the customer experience.
With 220 attendees, the conference held sessions featuring "smart" technology in Mercedes-Benz Stadium, biometrics lessons and even an Airport Shark Tank.
During the forum's opening keynote, emerging technology expert and author Ian Khan stressed that airports must activate a value-creation attitude.
"We always talk about the future as if it is not here yet … the future is tomorrow," Khan said to industry executives. "All of you here are creating and making decisions that will shape everything that will happen in your facilities and in your world tomorrow. "
The three-time TEDx speaker is convinced that robots, big data and automation will drive the future.
ATL Innovation and Performance Manager Dawn Gregory said the Airport's innovative ideas can emerge from a host of sources.
"What I've tried to do is create an ecosystem of collaborators ranging from incubators, educational institutions … and organizations to keep a pulse check of what's going on," Gregory said during the airport roundtable.
ATL's innovation team is exploring multimodal transportation connections throughout the up-and-coming Aerotropolis Atlanta, augmented reality for vision-impaired passengers, and vertical takeoff and landing of aircraft, which Uber Air is developing.
Innovation, Bheodari said, questions conventional wisdom, seeks solutions and "inspires us to look beyond what is, to imagine what is possible."
"We must look out on the horizon," he said, "and explore ways to deliver new value to our customers."