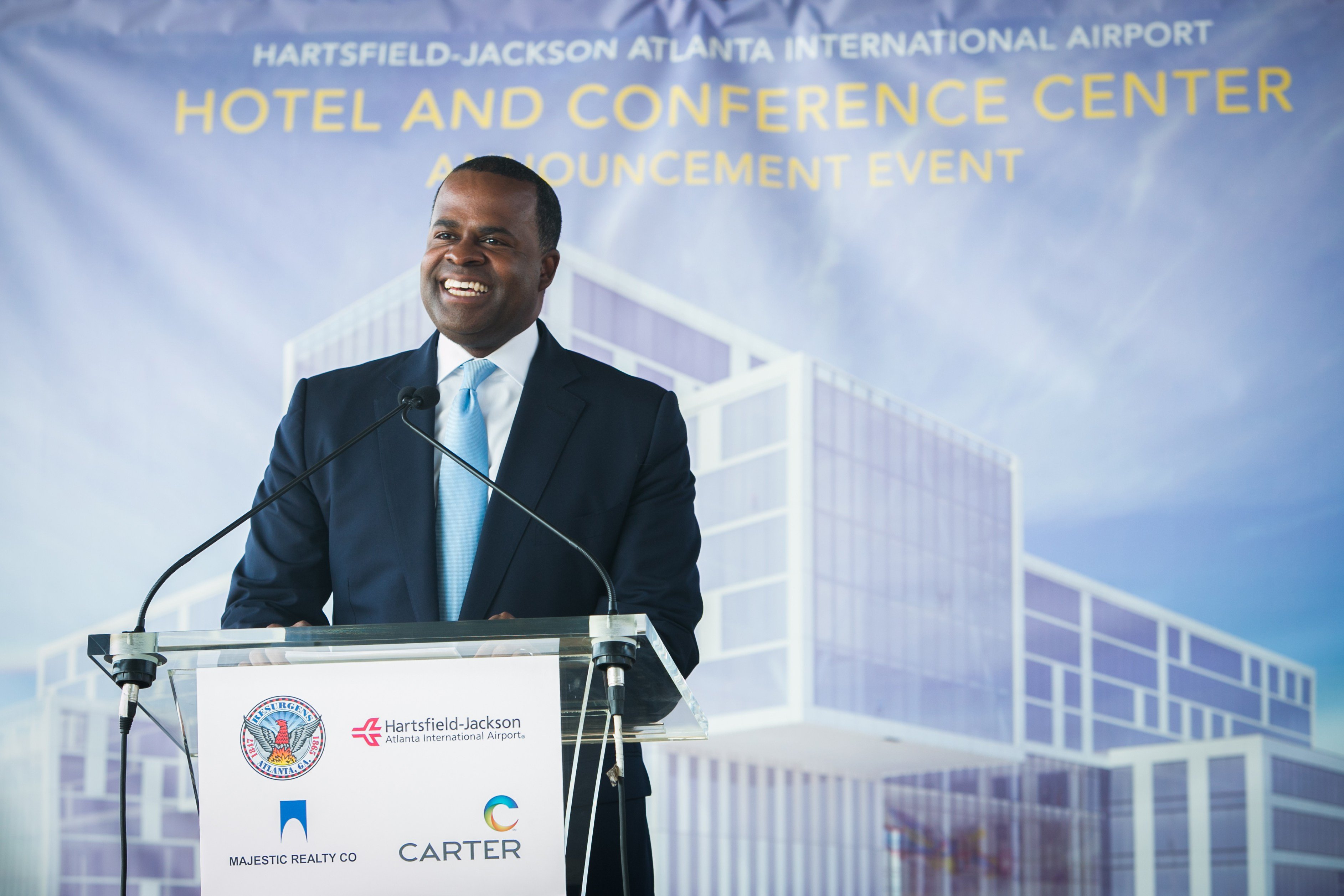 Mayor announces plans for 4-star hotel at ATL
By Shane Blatt
Senior Public Relations Manager
Calling it "an iconic hotel befitting an iconic airport," Atlanta Mayor Kasim Reed on Tuesday joined officials from Hartsfield-Jackson Atlanta International Airport (ATL), Majestic Realty Co. and Carter to announce plans for a four-star hotel and conference center to be built just steps from ATL's Domestic Terminal.
The 11-story, 440-room hotel — along with 80,000 feet of conference/meeting space and an additional 60,000 square feet of Class A office space — is a critical component of ATLNext, the Airport's $6 billion capital improvement program.
"With ATLNext, we're not just building canopies and runways and concourses; we're holistically changing the traveler experience at Hartsfield-Jackson Atlanta International Airport," Mayor Reed told nearly 100 developers, dignitaries and guests gathered at the Ground Transportation Center. "The world's busiest and most efficient airport will become a destination unto itself."
The hotel, expected to be an InterContinental Hotel, will add a new dimension to ATL, spurring economic opportunity and greater connectivity at the Airport. And the development will play a key role in Aerotropolis Atlanta, an area on the Southside of metro Atlanta surrounding ATL that is envisioned to become a world-class central business district. This district, or aerotropolis, would stitch together global commerce and livable communities.
Hotel construction is scheduled to start by early 2018, with a projected opening in 2020. Visitors to the new hotel will have access to 750 parking spaces, MARTA and the SkyTrain, which travels from ATL to the Rental Car Center and Georgia International Convention Center. A restaurant is planned in the main lobby, and a skybar that overlooks a runway will be constructed on the hotel's 10th floor.
"The complex will add value to companies that want to make Hartsfield-Jackson their home," Mayor Reed said. "It will also allow business people on tight schedules to conduct their meetings and still make their flights. If all goes as planned, this will be an iconic hotel befitting an iconic airport."
The hotel will be built directly west of the Domestic Terminal on what is now the 10-acre West Economy Lot and will connect to the terminal via a new plaza. In addition to the hotel and conference center, plans call for two additional hotels as part of a Phase II development on 13 acres just west of the Phase I, or InterContinental Hotel, site. Total cost of development of both phases is estimated at more than $350 million.
As part of Tuesday's announcement, Mayor Reed was joined by interim Airport General Manager Roosevelt Council Jr.; Scott Taylor, president of Carter; Ed Roski, president and board chairman of Majestic Realty Co.; and Stan Conway, executive vice president of Majestic Realty Co.
In December 2015, the City of Atlanta announced a joint venture between Majestic Realty Co. and Carter after a year-long procurement process. The 50-year ground lease of 26.5 acres near the Domestic Terminal was approved unanimously by the Atlanta City Council in September.