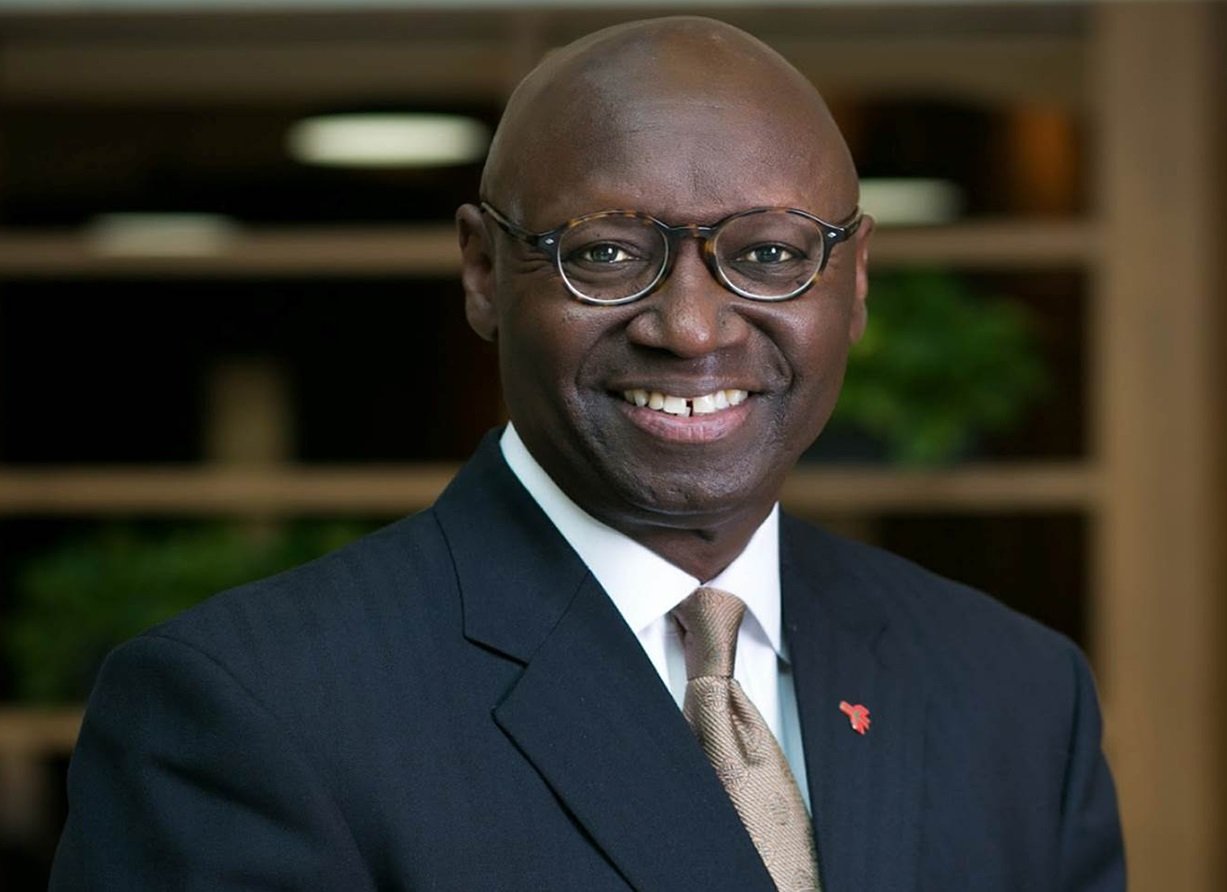 Roosevelt Council, Jr. sheds 'interim' title, appointed general manager of ATL
By Anika Robertson
Senior Editor/Assistant Public Relations Manager
By a unanimous Atlanta City Council vote Jan. 3, Roosevelt Council, Jr. took the helm of the world's busiest and most efficient airport as general manager after serving more than seven months as interim GM.
With more than 101 million passengers last year and climbing, ATL takes more than good instincts to run, and no one knows that better than Council.
Each day, Council makes a deliberate effort to walk the halls of the Department of Aviation to speak to employees he encounters. "It helps me because it allows me to get to know who people are and what they do," Council said.
Colleagues and managers describe  Council as "logical," "strategic," "grounded," "cool," "detailed," "approachable" and "dependable." A few noted his keen sense of humor and neatly styled appearance. But in speaking with Council, his genuinely kind nature also emerges.
With a career spanning decades, Council is proud of the accomplishments reached at Hartsfield-Jackson and looks ahead to the monumental work underway.
Each day begins at 7 a.m. and typically ends about 6:30 p.m. "I can get a lot done between my last meeting and that time," Council said while seated at his desk, where he balances incoming emails, mobile messages and phone calls.
In his office, awards adorn the walls and tabletops, along with sculptures and art from around the globe. A large hourglass and framed pictures of Council's family line the shelves behind his desk. "Courage" by Gus Lee sits atop a wooden end table.
As ATL's general manager, Council leads a department of 600-plus individuals, with a team of 12 who report directly to him, including leaders in business ventures, strategic planning, commercial and international business. Despite ATL's burgeoning size and multibillion-dollar renovations underway, Council remains the consummate optimist.
"We have a ton [of work] in front of us, and there is something very seductive about that," he said. "When you have so much to do, you don't worry about what you possibly don't need to worry about. You just keep going. And when you put people in key places and they understand what their role is, they keep going."
Regarding the staff, he said he was surprised that many people were eager to help him and ensure the success of everyone.
"That gave me another indication of the level of pride that our team has in Hartsfield-Jackson," he said. "And I am so encouraged by people's deep-seated commitment to actually getting what needs to be done, done. It's that commitment alone that keeps driving people to a certain level of excellence because they want to see it successful."
Council comes from a strong family background, with parents who instilled the value of education and a strong work ethic. As one of seven children growing up in rural Mississippi, Council was named after his father, a movie theater owner.
"I was like any other kid; everything was sports," Council said. "Whatever the season was, I played it."
With his height, he excelled not only in basketball but also in tennis. During high school, he also worked at the movie theater's concession stand but ultimately started running the projector once the regular projectionist became unreliable.
After high school, Council attended the University of Memphis with a focus on accounting. "For all of us, college was the next natural step," Council said. "There was never a question."
Adept with numbers, Council landed a position at a CPA firm, delivering tax returns. Puzzled as to why he wasn't keeping books or preparing tax filings, the recent graduate approached his supervisor and requested more responsibility. It was that drive and initiative early on that kept him on the path to success.
"I always had good managers, but I also had a lot of initiative. I didn't just sit back," Council said. His supervisor promoted him.
With his amiable nature and keen intellect, Council continued to excel in financial management positions in the private and public sector, rising through the ranks at the Georgia Transportation Authority before landing the position as City of Atlanta deputy CFO and budget chief in late 2008.
He advanced to CFO under then-Mayor Shirley Franklin. When mayoral candidate Kasim Reed campaigned (and won) on the platform of revitalizing the city's financial position, Council heard whispers that Reed might bring in his own team. Still, Council continued working in the finance department.
When an opportunity arose at Hartsfield-Jackson in late 2010, Council was open to the new landscape. He started as CFO but soon earned the role of deputy general manager of the commercial division.
"That worked out pretty well," Council said. "At the time, we were introducing this very large concessions package, so we had to build out locations to [open] the stores. That's when I realized how incredible the people who work here are."
Council realizes his efforts are paying off.
"I've been out here six years, roughly," he said, "but those six years have been knowledge-gathering years for me. When Mayor Reed made the decision to ask if I would step in as the interim general manager, once again I felt that he was showing confidence in me. I was almost floored by the amount of respect I felt for the mayor but also the amount of courage he had in selecting me to run a place like this. I didn't find out until a little bit later how much he trusted me and my judgment. I realize that you build respect by doing what you need to do, not necessarily always touting what you can do."
For Council, leading the Southeast's global gateway is not about feeling pressure but more about making certain that all employees and ATL stakeholders are equipped with a clear understanding of their role and how it contributes to the Airport's success.
"My vision is a simple one," Council said. "Because we have so much talent here, it's ensuring my leadership team is able to articulate exactly what we need to do to a very talented group of people. But we have to be steadfast in that commitment."
He added: "My sense is that everyone here wants to play an influential part, not just a part. My sense is that people will stay when they feel like what they are doing is influential. You will leave quickly if you don't feel like what you do is influential. My vision is to make sure that everyone is aware of what this Airport needs to be successful every day and they understand their role in that."
And for the millions of passengers who travel to or through the Airport each month, safety and security measures remain vital. However, the general manager wants travelers and guests to have continuous positive experiences from curbside to gate.
"I've had so many people come up to me and say, 'This place is always clean, you always have good choices, and as big as it is, I don't seem to have hassles. Everyone just seems to move,'" he said. "And that's good, but we don't rest on those laurels."
"There is something to be said for a pleasing aura that an airport presents," Council said. "This place needs to be opening-day fresh every day so that passengers can easily find their way, we give them choices and their stay here is comfortable."
The future of Hartsfield-Jackson is ATLNext, the $6 billion capital improvement plan that will expand and improve structures, increase sustainability and enhance the Airport's visual appeal. It began in fall 2016, and Council advances its mission with weekly senior staff meetings, a bimonthly executive leadership council and monthly management forums.
"ATL serves as a hub," he said. "We are a major cog in the aviation transportation logistics of this country. No other Airport comes close in this country. We're going to have 105 million [travelers] this year. That means that next year we might hit 110 million, and that's a lot of people. We have to be ready for that. For an Airport that completes almost 900,000 operations [landings and takeoffs] a year, it takes coordination to get all of that done and keep it moving. And that's how Hartsfield-Jackson has been defined. We keep things moving."