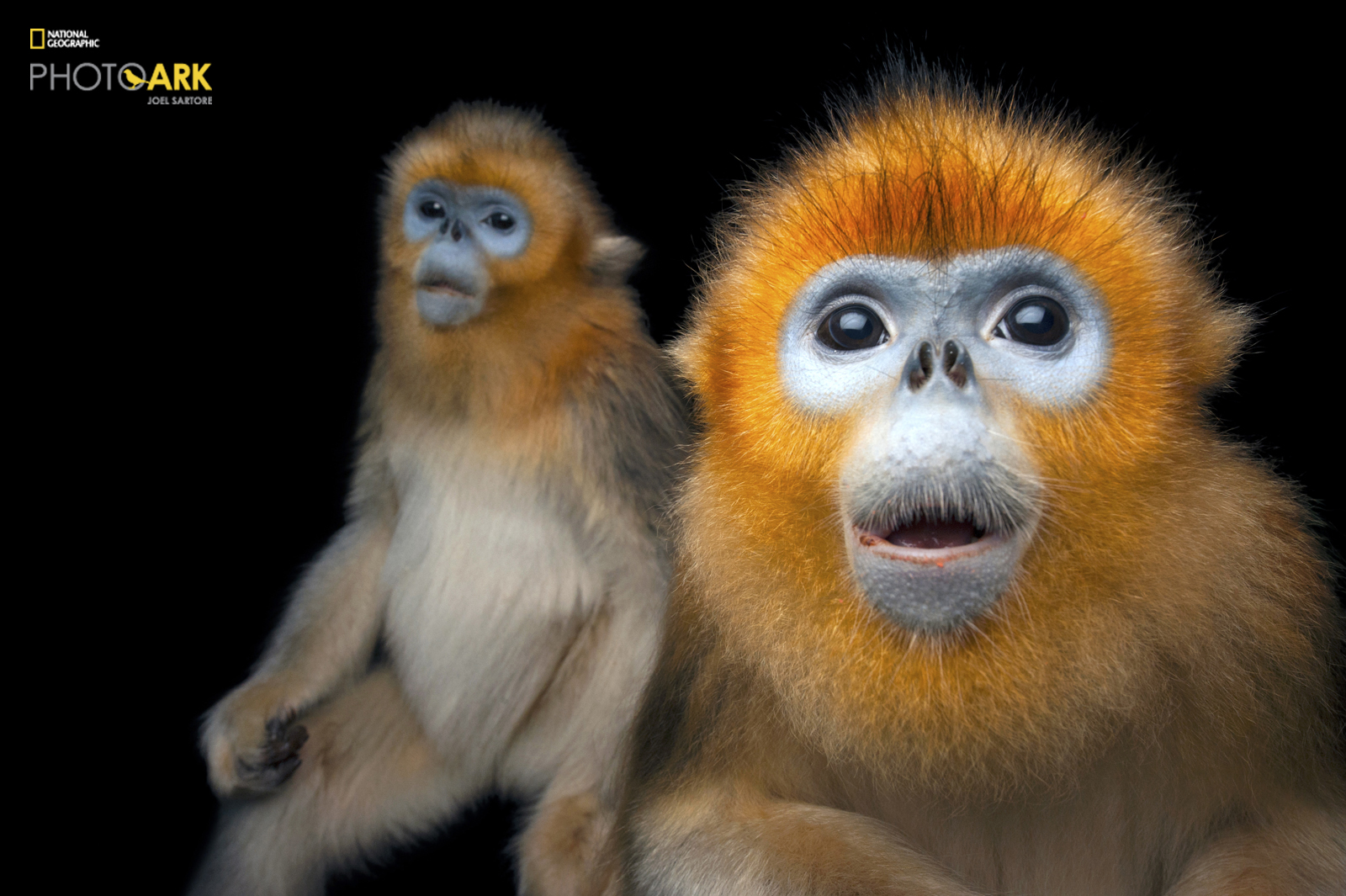 Saving Thousands of Species, One Click at a Time
Saving Thousands of Species, One Click at a Time
By Jennifer Ogunsola
Communications Manager
Life's toughest situations often reveal one's true purpose, making way for remarkable things. Nearly 14 years ago, award-winning photographer, author, conservationist, and 2018 National Geographic Explorer of the Year Joel Sartore encountered this very dynamic. That's when he took some time off, and his life's passion was born.
Sartore is the curator of The National Geographic Photo Ark, a 25-year project documenting some 15,000 species living in zoos and wildlife sanctuaries around the world. The objective is to inspire action through education and save wildlife by supporting on-the-ground conservation efforts. So far, Sartore has been up close and personal with about 10,000 species, creating an exhibit featuring some pretty cool backdrops.  His photos have been seen in the United Nations and Empire State buildings in New York, and at St. Peter's Basilica in the Vatican in Rome.
Now, his exhibit is on display at Hartsfield-Jackson Atlanta International Airport (ATL).
At ATL, more than 107 million passengers and 63,000 employees have an opportunity to look into the eyes of these animals and see that they are worth saving.
ATL Stories had an opportunity to speak with photographer and curator Joel Sartore to learn more about his photographic journey and what he hopes it will accomplish.
ATL Stories: What sparked your interest in taking on such a huge undertaking?
Sartore: I started going to the Lincoln Children's Zoo, a mile from my house, to take photos. I asked the Zoo staff if they had a small animal that would hold fairly still. They brought out a naked mole-rat and put it on a white kitchen cutting board. I was intrigued by the fact that these animals live underground in the wild. That is how Photo Ark started.

ATL Stories: Did you know that it would get this big?
Sartore: I had no idea at the time it would get to be as big as it is, but I'm pleased because it means millions of people are starting to care about the fate of all life on Earth. That's what Photo Ark is all about.

ATL Stories: Where are you on this journey?

Sartore: After 13 ½ years, we are a little more than halfway done, nearing the 10,000-species mark. Our goal is to capture every species in human care around the world. That will likely take the rest of my lifetime.
ATL Stories: Have you had any challenges photographing any of the animals?

Sartore: I remember my first chimpanzee photo session like it was yesterday. After an hour of prepping, the chimps destroyed my set at the Sunset Zoo in Manhattan, Kansas. The shoot lasted less than three seconds. People can see it on my website. Just search 'The Chimp Incident.' I still don't have an intimate portrait of a chimp to this day.
ATL Stories: Which animal has been the most memorable?

Sartore: I had the honor of photographing Nabire, one of the last northern white rhinos left on the planet. She lived at the Dvur Kralove Zoo in the Czech Republic and was the sweetest. Less than two weeks after our visit, she passed away from complications brought on by old age. Now the world just has two left.
ATL Stories: What has been most rewarding for you since you started Photo Ark in 2006?

Sartore: Historically, the Florida grasshopper sparrow occurred all over the prairies of central Florida. In the last few years, however, it has neared extinction, with biologists struggling to find the reasons why.
When Photo Ark photographed the bird for an Audubon Magazine cover story, it got so much attention that the U.S. government went from spending $20-30k per year to document its demise, to $1.2 million to begin a captive breeding program. That breeding program is a success today, and so there's real hope for the sparrow thanks to the hard work of the researchers and breeding centers
ATL Stories: What do you say to families who come through ATL and admire Photo Ark?

Sartore: I hope families that come through ATL are surprised, captivated, and then moved to learn all they can about the animals. Only then is there a chance that they'll take action to save these species. Families can learn about ways to get involved, support the National Geographic Photo Ark and check out some great educational resources for children on NatGeoPhotoArk.org.
ATL Stories: What do you say to those who say, "Why should I care?"

Sartore: When we save other species, we're actually saving ourselves. We need pollinating insects to bring us fruits and vegetables. We need healthy, intact rainforests to keep the planet cool and help regulate global rainfall patterns, which enable our crops to dependably grow. It's folly to think that we can doom millions of plant and animal species to extinction and we'll be just fine. It won't work that way.
ATL Stories: How can ATL passengers help in this effort?

Sartore: Support your local zoo, aquarium or wildlife rehab center. Many species only exist in captivity now, so when you support a local accredited zoo, your money goes directly towards breeding and saving rare animals. Eat healthier! Eat less meat, and eat locally whenever possible. Meat takes a lot of energy, grain, and water to produce. Buying locally produced fruits and veggies supports local farmers and doesn't require the carbon emissions of a diesel truck driving it to you from across the country.
**This conversation was edited for clarity.