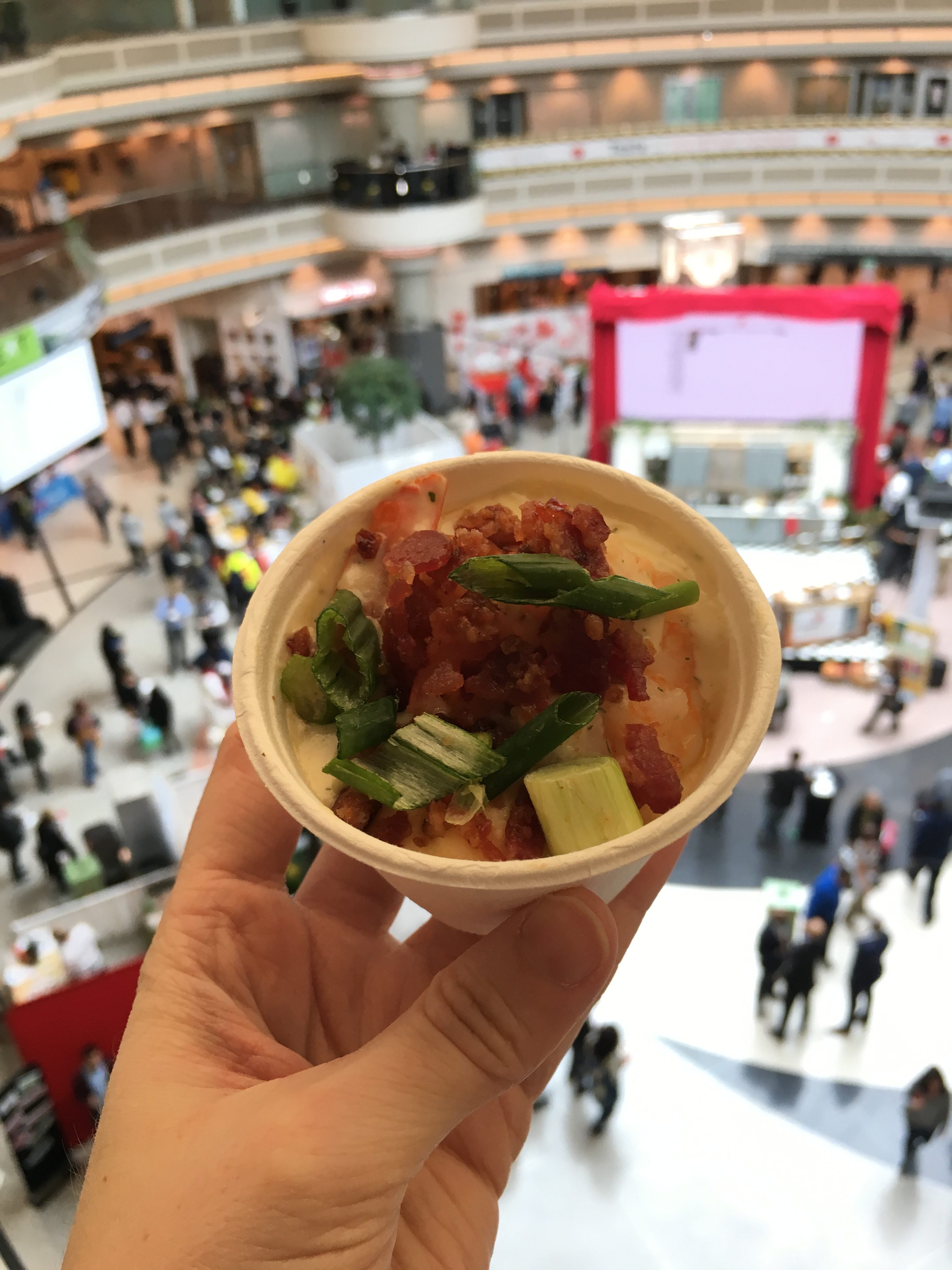 A Taste of Hartsfield-Jackson

By: Alnissa Ruiz-Craig
The world's busiest and most efficient airport was buzzing more than usual when it kicked off the fourth annual Taste of Hartsfield-Jackson, a one-of-a-kind food festival showcasing more than 30 of its restaurants. The event featured live music and a chef competition, and even better, all proceeds benefited No Kid Hungry, a nonprofit organization working to solve problems of hunger and poverty in the United States and around the world.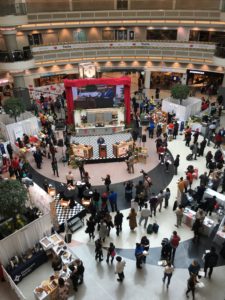 Taste of Hartsfield-Jackson was held pre-security right here in the Domestic Terminal atrium, ensuring all Airport guests had an opportunity to sample and enjoy all the amazing cuisine that ATL has to offer. A book of ten tickets cost $15, which entitled you to ten "tastes" from the many vendors.
Taste booths wrapped all around the atrium with all kinds of delicious options. Now, when you hear the word "taste" you may be thinking of a tiny bite, but not at Taste of Hartsfield-Jackson. These portions were large! Really giving you a bang for your buck. There was a little bit of everything – burgers, ribs, seafood, pastas, sweet desserts, and even sushi. A few of my favorites were the fish tacos from Jekyll Island Seafood – crispy, perfectly fried white fish with a tangy cabbage slaw in a tortilla; the shrimp and grits from LowCountry Southern Cuisine – well seasoned, creamy and really delicious; and the sample salmon and ahi tuna roll from One Flew South. For dessert, I grabbed the tiramisu and pralines from the Café Intermezzo booth. I'm not ashamed to say I went back twice; it was that good!
In the midst of the food tastings, center stage came to life with an exciting chef's competition. Head chefs from two of ATL's popular restaurants – Connie Taylor of Ecco and David Williams of Sweet Georgia's Juke Joint – faced off cooking in real time. The competition was judged by "Atlanta Eats" host Steak Shapiro, "Everyday Korean" author and Chef Seung Hee Lee, Jackmont Hospitality Culinary Director Chef Todd Richards and "Eating with Erica" food blogger Erica Key.
With a larger-than-life stage, the rush of competition and the smell of freshly prepared food all around, it was easy to forget you were standing in the middle of the Airport. It really was an awesome experience.
Is it bad to say my one regret is that I didn't eat more? Everything was so good. World-class restaurants and top-of-the-line chefs – this is not your typical Airport food.
The event wrapped up after four hours of indulgence with great success. With smiling faces and full stomachs, everyone in attendance seemed to enjoy their time. If you missed it this year, mark your calendar for next year and keep an eye on our social media accounts. This is not something that you want to miss again.
Thank you to all the hardworking organizers, chefs, vendors and volunteers. I already cannot wait for next year.