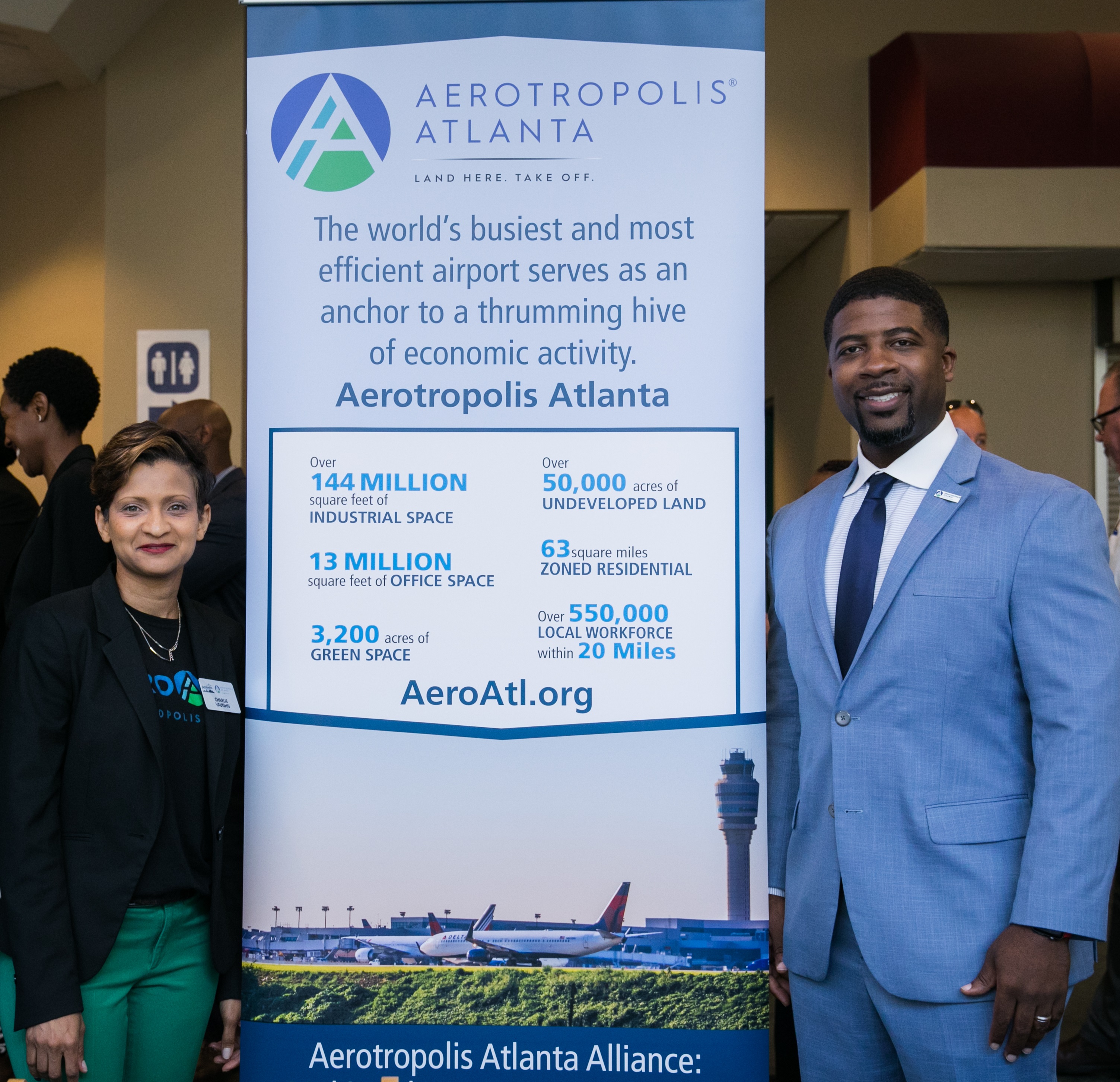 Airport region prepares for major renewal with aerotropolis
By Anika Robertson
Senior Editor / Assistant Public Relations Manager
It's no secret that as the economic jewel of the Southeast, Hartsfield-Jackson drives billions of dollars in business activity. A few miles away sits a lesser-known asset, a small but robust organization strategically grinding to catapult development surrounding ATL's 4,700 acres.
Incorporated in 2014, the Aerotropolis Atlanta Alliance, consisting of a 39-member board that includes municipalities, nonprofits and corporate powerhouses such as Porsche, Georgia Power, SunTrust Bank and Delta Air Lines, seeks to drive economic investment, job growth and quality of life in the area.
While many areas north of 1-20 have experienced development and revitalization, areas south of the line remained stagnant. That is until Porsche broke ground on its $100 million North America headquarters in Hapeville in 2012.
"Porsche's arrival solidified the aerotropolis concept," Aerotropolis Atlanta Alliance President and CEO Shannon James explained, adding that multijurisdictional collaboration and cooperation were vital.
The organization was kick-started by a partnership with the Atlanta Regional Commission to publish a detailed blueprint outlining the vision, select stakeholders and identify transportation needs. Porsche Vice President, General Counsel and Secretary Joe Folz joined the burgeoning initiative and currently serves as chairman emeritus.
James, appointed as CEO in May 2018, spends his days and nights furthering the mission of Aerotropolis Atlanta Alliance to strengthen the region through economic development, education and workforce development.
The collaborative approach is working.
"We bring tons of benefit with public-private partnerships, all these cities surrounding the Airport and we're in constant communication with them. So how do we make sure, if there are opportunities or challenges, how can we be a conduit?"
The entire Aerotropolis Atlanta area encompasses a 20-mile area surrounding the Airport. In addition to the Alliance, Community Improvement Districts (CIDs) also collaborate for further planning and development, such as a greenway network of trails, a transit study, and cargo mobility plans.
The Aerotropolis Atlanta CIDs and Alliance spearheaded a first for the area, the $12 million Diverging Diamond Interchange at I-285 and Camp Creek Parkway that promises to improve traffic flow and promote future growth. The project is expected to be completed in late 2019.
"CIDs are more horizontal in economic development – beautification, infrastructure and wayfinding," James explained.
"We're trying to bring vertical growth. When you have horizontal growth happening, it influences the vertical, so we are constantly working together."
With ATL as a partner and advocate for Aerotropolis Atlanta Alliance, Airport General Manager John Selden said the alliance is a no-brainer.
"Ensuring the success of Aerotropolis Atlanta is a win-win for everyone," Selden said.
"It just makes logical sense to be located in a thriving, vibrant region that is a world-class transportation hub."
One major project set to break ground early next year is Airport City College Park, a 320-acre mixed-use development adjacent to the Georgia International Convention Center off Camp Creek Parkway.
"Now we're bringing a couple of billion dollars to the area, which has never happened before, south of I-20," James said.
"This project really speaks to the aerotropolis concept. You're bringing real destination development to an airport area."
So how can ATL best support Aerotropolis Atlanta? The former bank executive wants to make sure that visions and planning align while continuing to put Hartsfield-Jackson on a platform it deserves.
"[With ATLNext], I would love for us to coordinate more as we're planning through growth and what that looks like," James said. "This will lead to smart growth for decades to come while positively promoting the area."
The organization recently won the 2018 Development of Excellence Great Place Award by the Atlanta Regional Commission.
Plans for the next big win are in Clayton County with Mountainview, a 700-acre mixed-use development opportunity west of Maynard H. Jackson Jr. International Terminal.
"We have a regional focus and want to strip the idea of competition amongst ourselves," James said.
"What's good for the area is good for everyone."