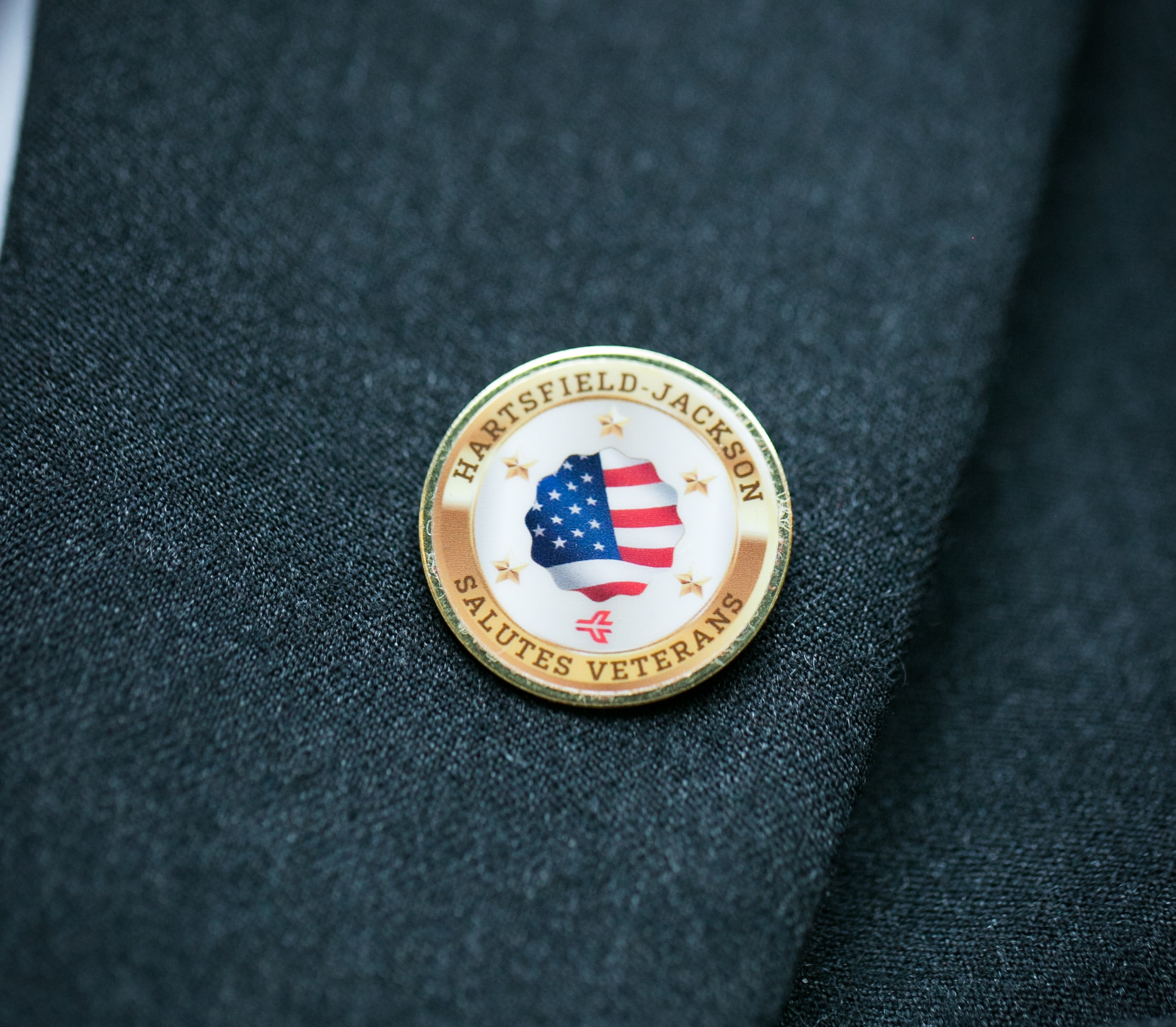 ATL honors military veterans for pre-Independence Day celebration
By Blakeley Bartee 
Public Affairs Intern
In the shade of a colossal U.S. flag hung from the Domestic Terminal atrium, Hartsfield-Jackson Atlanta International Airport kicked off its fourth annual "Life, Liberty and the Pursuit of Flying" campaign June 28.
The pre-Independence Day celebration, which ran simultaneously with a press conference at the International Terminal, saluted active military service members and honored veterans with a pinning ceremony.
"This celebration promises pomp and patriotism, but it's also a sober reminder that our nation still faces conflicts across the globe, with our brave men and women in uniform fighting to defend our freedom," Airport Senior Deputy General Manager Michael Smith said before an audience of veterans, dignitaries, guests and employees.
Smith was joined at the podium by retired Maj. Gen. David Bockel, Col. Scott Allen and Mary Lou Austin, CEO and president of USO Georgia.
"Through times of peace and times of conflict, the USO at Hartsfield-Jackson has proudly served as a place of respite, where service members and their families are welcomed, respected and appreciated," Smith said.
The USO center at Hartsfield-Jackson, established in 1977, was the first center to open inside a U.S. airport. Today, USO Georgia serves more than 10 million men and women.
"Georgia is the 10th most patriotic state," said Austin, citing a newly released study. "Well, I am proclaiming today that the Hartsfield-Jackson Atlanta International Airport is the most patriotic airport."
Bockel recognized Hartsfield-Jackson for its role in transporting U.S. soldiers during the holidays. He recounted the story of a Vietnam War soldier who, with the help of Delta Air Lines in Atlanta, made it home for Christmas in 1967, a time when major air carriers had difficulty taking flights from Vietnam.
"I can live in peace and harmony in my land because of the men and women who are willing to do this for America," USO member Pat Solomon said. "And I thank each and every one who ever put on a uniform."
Throughout the week, ATL volunteers will distribute glow sticks that illuminate in red, white and blue while Airport musicians pay tribute with patriotic tunes.
Meanwhile, on the International Terminal, the celebration had a distinctly global flair.
Interim Deputy General Manager and Chief Financial Officer Greg Richardson welcomed members of the Georgia Consular Corps. The ceremony included representatives from India, Canada, Ecuador, Haiti, Mexico, Japan, South Korea, Israel and Jamaica.
These Consular Corps members provided floral arrangements and presented Director of International Affairs Alrene Barr with letters congratulating the United States on its Independence Day. The floral arrangements will be displayed in the International Terminal throughout the week. El Salvador, whose dignitary was unable to attend the ceremony, provided an arrangement as well.
As was the case in the Domestic Terminal, Richardson led a pinning ceremony of military veterans.
"When you see this pin," Richardson said, "know that your service to the nation is deeply appreciated. We thank you."
Senior Public Relations Manager Shane Blatt contributed to this report.