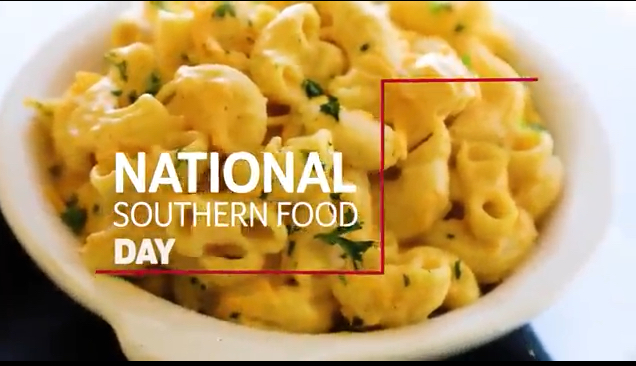 National Southern Food Day

By: Ebonne Holyfield
Concessions Marketing Coordinator
Here at ATL Airport, we know a thing or two about the South. So when we heard it was National Southern Food Day, we were beyond excited to give you the scoop on not one, not two, but ten of our popular Southern dishes. In true Georgia fashion, we believe in Southern hospitality and enjoy providing you with home-cooked meals while you're away from home. Prepare to indulge as we roll out the red carpet and take you on a short Plane Train ride to two of our star-studded restaurants.
First up is LowCountry New Southern Cuisine, co-owned by celebrity chef G. Garvin. Located at A Centerpoint, this eatery is one of our many Airport gems in high demand. Serving each guest buffet style, LowCountry boasts that their incredible meals bring to mind "images of suppertime, Sunday dinner and cherished moments with family and friends." You can grab a seat in the food court to savor the flavor or conveniently take your meal to go. Either way, you can't lose with their perfectly seasoned Shrimp and Grits, creamy Mac n' Cheese, and savory G. Garvin's Baby Back Ribs.
As if your mouth isn't watering enough, next up is Chicken + Beer, co-owned by Grammy award-winning artist Ludacris. With nostalgic Atlanta hip-hop playing in the background and Southern comfort food at your fingertips, Chicken + Beer is quickly becoming a go-to oasis on Concourse D. Not to mention, when seating you, the staff inquires about your time restraints so that your meal doesn't delay your travels. Excellent Southern hospitality, right?
And just in case you weren't convinced Chicken + Beer truly captures the spirit of the South, expect a variety of Southern staples ranging from Luda's Chicken + Waffles, Southern Fried Chicken, Salmon Croquette Sliders, Sweet Potato Yams and the most delicious Collard Green Cowl you've ever tried. The next time you're traveling through ATL, do yourself a favor and treat yourself to a taste of the South because we're definitely bringing the flavor.
Enjoy and Happy National Southern Food Day!
Click the video to start a celebratory journey through ATL.