ATL Skypointe is Open and "Ready When You Are"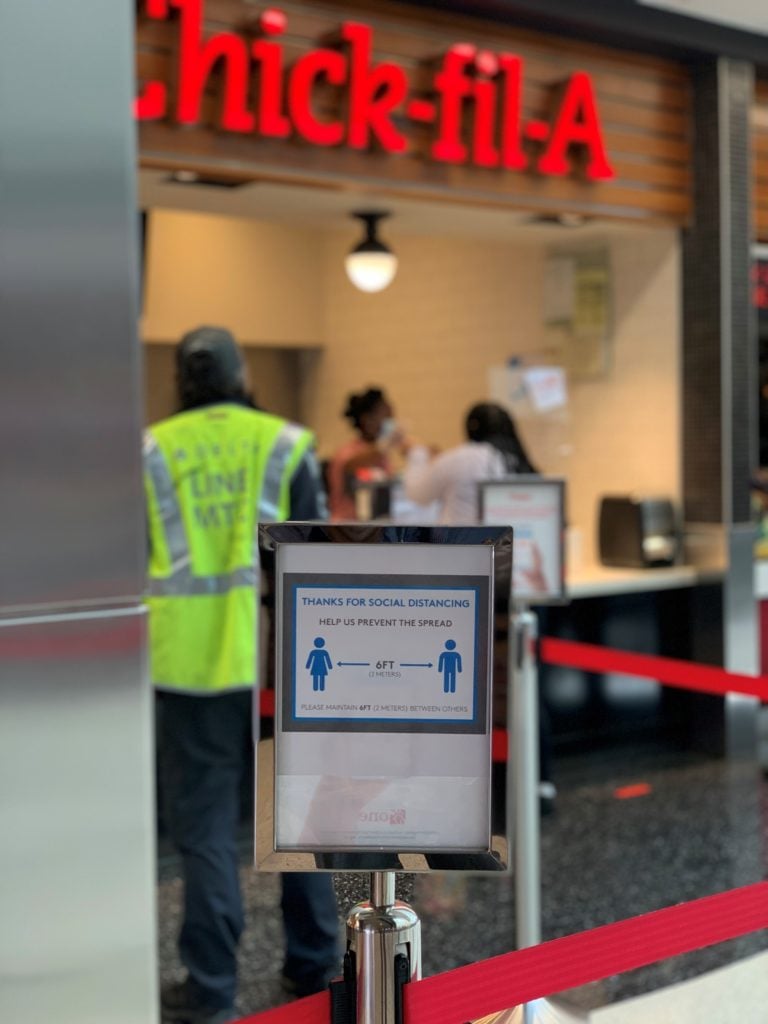 For the past couple of months, we have been living in quite uncertain times. I don't think you need me to emphasize what an unprecedented whirlwind things have been lately. As many of us begin the journey toward normalcy, such as traveling again, ATL wants you to know that they are open, safe and ready when you are.
Personally, outdoor activities I've missed most have been traveling and dining out, and I would place a bet that a lot of you feel the same way. In fact, many of you have reached out via social media to ask what restaurants are open and operating at ATL.
So, what does dining in a restaurant at ATL look like today? I got an opportunity to talk to Nkosi Baker, a bartender at the popular TGI Fridays in the Airport's domestic atrium and Valencia Jackson, general manager of Chick-fil-A on Concourse A to get a little insight on what's happening at their restaurants.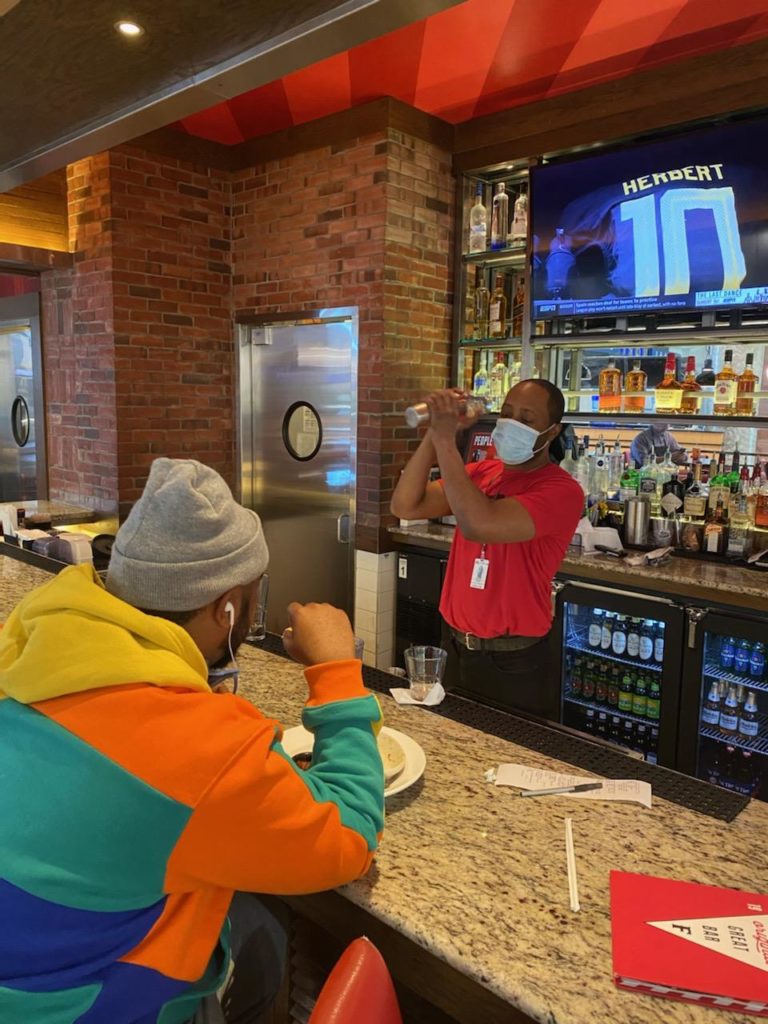 Destination Skypointe: What has it been like at the restaurant post COVID-19?
Nkosi: "The passengers have been really cool. When they come in, we talk about what's going on. Share opinions. It's still good times and good conversation. Customers have been good about protecting themselves and wearing masks."
Destination Skypointe: What are you all doing differently?
Nkosi: "We are wearing masks and gloves and washing our hands every 10 to 15 minutes. We also wipe down the tables and clean with an antibacterial solution daily. We are also looking into using disposable menus."
Destination Skypointe: How have the extra cleaning protocols impacted the business?
Nkosi: "It's extra work, but for the overall health of our customers, it's worth it."
Destination Skypointe: Any changes to the menu?
"Some items have been taken off the menu. But for the most part, the menu is the same."
I asked Valencia similar questions to find out how things have been for her and her crew on Concourse A.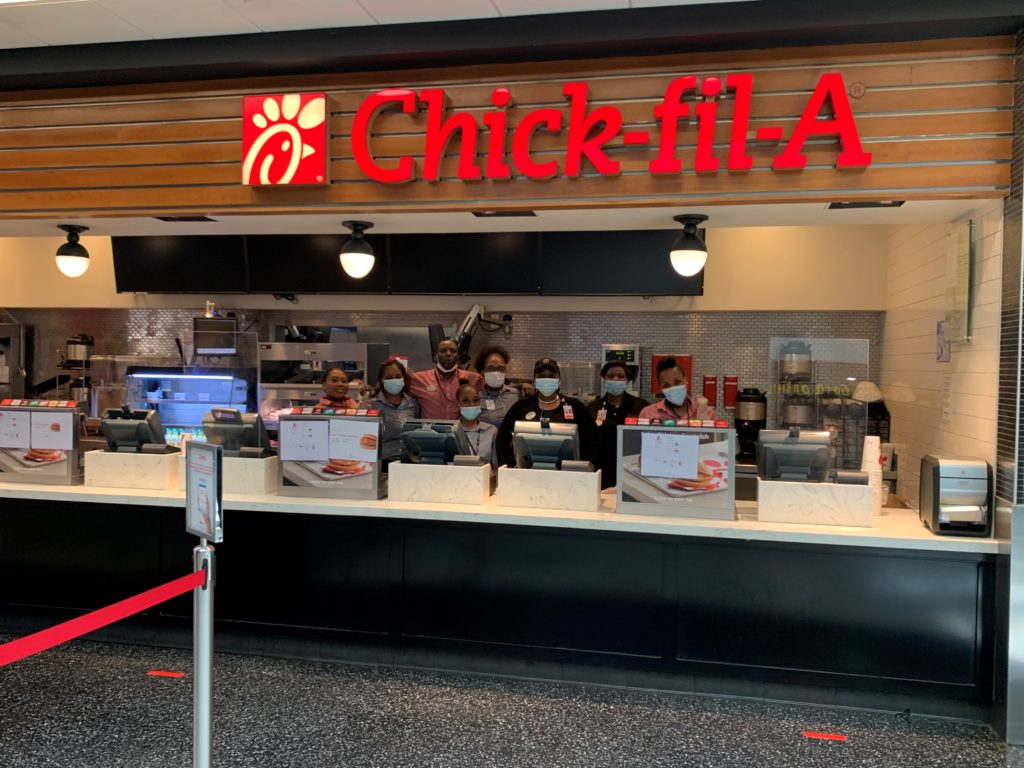 Destination Skypointe: What has it been like at the restaurant post COVID-19?
Valencia: It's been pretty slow. People are trying their best to be at ease."
Destination Skypointe: What are you doing differently at Chick-fil-A post COVID-19?
Valencia: We are requiring all employees to wear facemasks and gloves. Before the cashiers would make the beverages, now we have them only taking payment to limit contact [with the food and drink].
Destination Skypointe: Have you had any menu changes?
Valencia: Yes. We have a limited breakfast menu, and have had to remove a few items, such as eggs and bacon.
Valencia went on to explain that the menu limitations are due to limited on-site staff at this time. More people are required to prepare some of the meals that were normally offered.
Destination Skypointe: Share something positive that has happened since all of this began.
Valencia: "The customers seem to be very happy to see that we are open. Just the other day, one of them thanked us and wanted to take our picture. It's very heartwarming to see. They appreciate that we are open."
When I asked both Nkosi and Valencia what they wanted the public to know, their responses were similar, but very clear. They want all to know that they are open and doing all that they can to make sure their customers feel comfortable and safe. A sentiment that I'm sure is shared by all of the ATL concessionaires.
"We have to get back to normal," Valencia said right before we ended our call.
I think we all are working toward and looking forward to that. One step at a time – or in this case, one meal at a time. So, if you're passing through ATL in the near future, please be sure to visit and grab a bite from either of these great places, with an even greater staff.