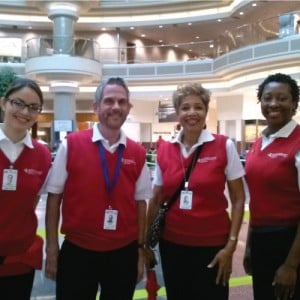 Hartsfield-Jackson Atlanta International Airport is seeking volunteers for its volunteer program, which has been an
integral part of the Airport since 1996.
Hartsfield-Jackson Volunteers work in an exciting, fun and diverse atmosphere. They welcome and assist visitors and share information about the Airport. Volunteers also help conduct tours, provide escorts, assist in emergencies and irregular operations, and participate in special events.
Volunteers lend a hand throughout the Airport: at the Information Desk; in the Transportation Mall, where they direct passengers to their gates; in the baggage claim areas, where they provide information about ground transportation; and at the International Terminal.
Hartsfield-Jackson Volunteers receive many benefits, including free Airport parking or MARTA passes.
If you are interested in becoming a Hartsfield-Jackson Volunteer, please email us at volunteer@atl.com, call the Volunteer Office at (404) 382-2189 or fill out the online volunteer application form.
For more information about qualifications and volunteer duties, please click on the link to the Volunteer Job Description and Frequently Asked Questions.