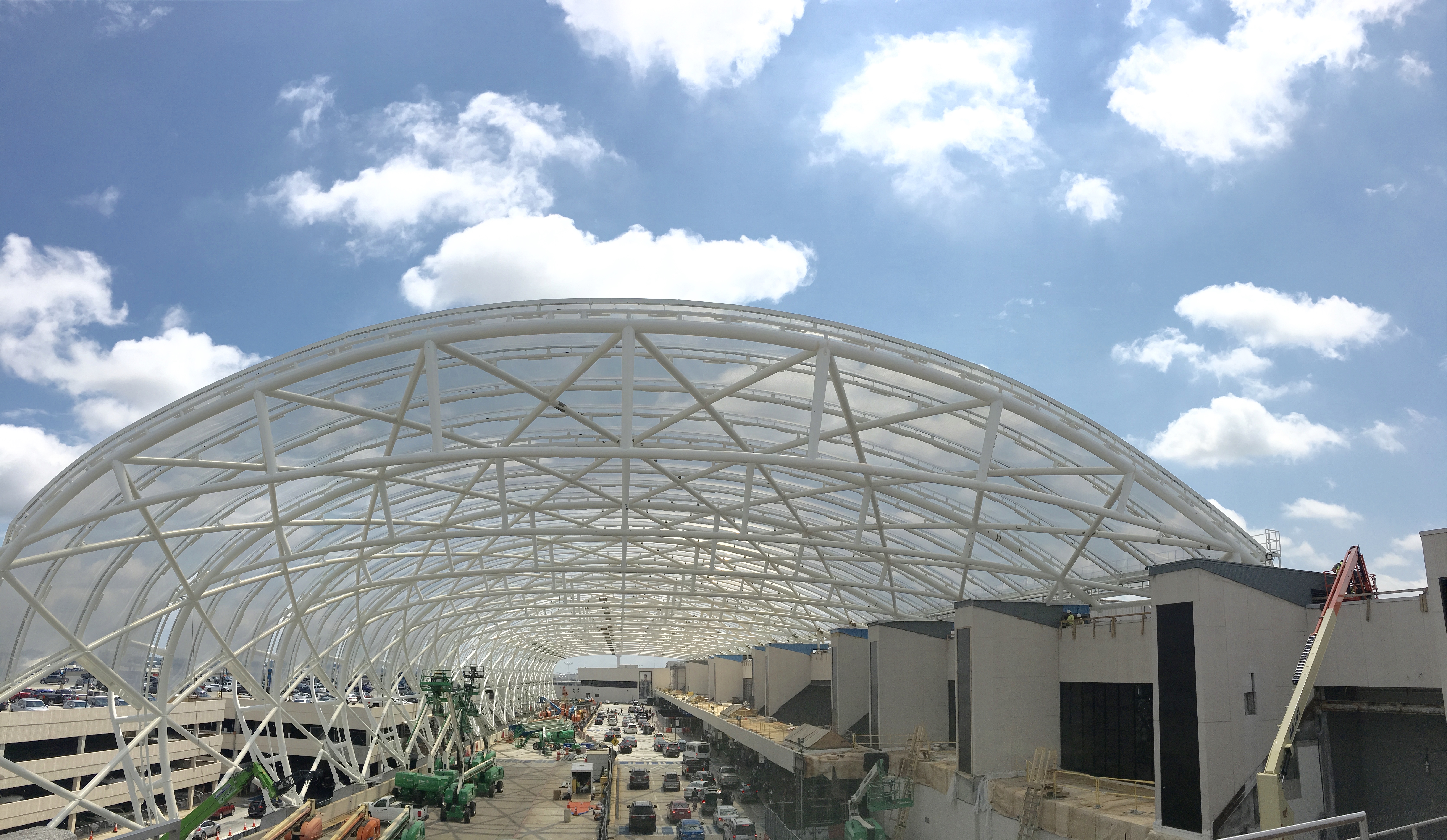 Cool Canopies at Hotlanta's Airport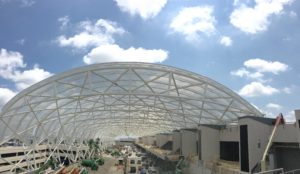 By Jennifer Ogunsola
Communications Manager
Atlanta's skyline is about to change, but you'll have to travel a little south of downtown to see it.
Hartsfield-Jackson Atlanta International Airport (ATL) is constructing two massive canopies that will soon become an architectural icon for the city of Atlanta. Those additions are just part of the 20-year, multibillion-dollar capital improvement program called ATLNext.
If you've been to Atlanta's airport within the last year, most likely you've seen construction crews erecting large, uniquely-shaped steel structures over the North side of the Domestic Terminal, and if you travel through ATL often, you probably have some questions.
What are they building? When will they finish? And many city-dwellers are asking, "are my tax dollars funding this project?"
The canopies are nearly 900-foot-long structures — that's the length of nearly three football fields. But when finished, they are "going to make the passenger experience much more pleasurable, and give the Domestic Terminal a completely new look," said Tom Nissalke, ATL's interim assistant general manager of Planning and Development.
With all the debris, dump trucks and passenger detours, we thought we'd ask travelers what they think about the canopies going up.
Dee Hawkins is from Chicago but travels through ATL sometimes. She said, "I wasn't sure what exactly was happening, but I knew that whatever it was, it seems as if this airport is only getting better because it looks phenomenal already. And it's looking like there will be more open space, which I love."
More open space is indeed part of the plan, but there is so much more ATL passengers will appreciate about the 3,050-tons of steel slated to extend across the roadways and curbsides of both sides of the Domestic Terminal.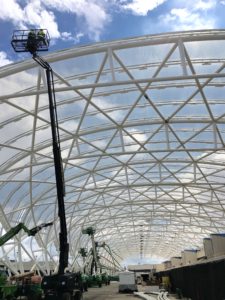 In addition to the massive arches and waterproof, translucent coverings, at night, there is the option of bringing them to life with light. A total of 1,938 lights on each canopy – with seven to eight color variations – give the canopies a stylistic addition that will create a dramatic transformation of ATL.
While completion of the North canopy is scheduled for October 2018, by 2020 the world will witness the canopies ascend over both North and South sides of ATL's Domestic Terminal.
"The canopy's primary use is to shield passengers from the weather, so whether you're getting picked up on the curbside or you're going between the Domestic Terminal and the parking structures, you'll stay protected from rain and other inclement weather," said Nissalke.
In addition to being an architectural icon, the canopy structures will increase overall efficiency, which is a concern for everyone, especially passengers.
"As a passenger, I want to make sure that there is some kind of pedestrian walkway between the parking garages and the Terminal because that's what slows down the traffic flow and causes so much congestion," said traveler Melvin Donato.
Airport officials and engineers agree. Pedestrian bridges are part of the final architectural plan, which will enhance passenger safety and improve traffic flow.
Nearly 104 million passengers walk through ATL annually, and since the doors of the Domestic Terminal opened in September 1980, there haven't been any substantial exterior modifications. Hence, the purpose of ATLNext. 
"The project is more than just the canopies. It's the enhanced vestibules and the enhanced facades," said Nissalke. "The face of the Domestic Terminal on both curb fronts will also just get a totally new look as well."
As for those city-dwellers wondering about their tax dollars?
"Taxpayer dollars are not being used," said Nissalke. "Airport revenue is paying for the canopies. The Department of Aviation is an enterprise fund, so we're not part of the City's general fund."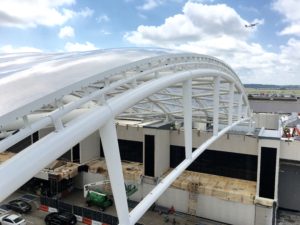 ATLNext is a 20-year project currently underway at Hartsfield-Jackson that consists of a series of improvements designed to boost capacity, renew and replace existing facilities, and enhance aesthetic appeal. It includes modernizing the Domestic Terminal, replacing parking facilities, expanding cargo operations, and paving the way for a hotel and mixed-use development.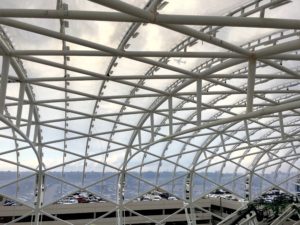 "People in our industry are used to building construction projects, and when we got to ATL, we realized that we were building a logistics project that included construction," said Justis Brogan, a senior project manager for NSMS, the joint venture of New South Construction, McCarthy Building Co. and Synergy Development Partners.
Brogan, who has spent the past 14 years in construction management, and is currently leading the canopy build-out for ATL, says that this is the largest and most complex project that he's worked on to date.
"We thought that it was crazy and very difficult to build a structure of that size and complexity in between an active terminal and an active parking deck and over an eight-lane highway," Brogan said.
"But now that we have done that for the North [side], we are excited about the prospects it brings to the passenger experience and staying dry on a rainy day in Hotlanta."
Nineteen steel super trusses on the north canopy were constructed from October 2017 to May 2018. Check it out!