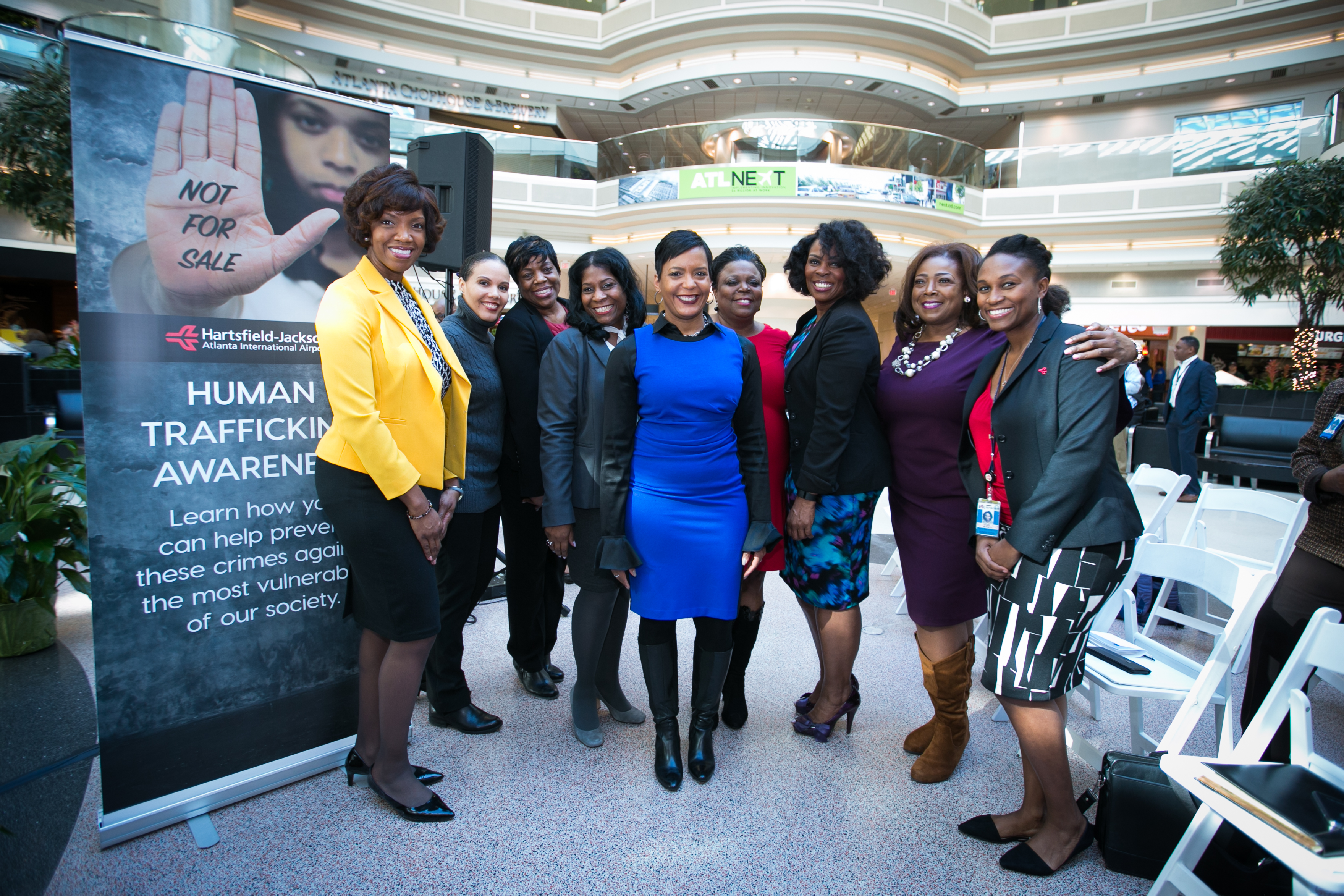 Humans Are Not for Sale
By Jennifer Ogunsola
Communications Manager
Walking through the airport, the last thing that likely crosses one's mind is whether the person next to them might be a survivor or victim of human trafficking. According to the International Labour Organization, there are approximately 40 million victims of human trafficking, globally. So if you travel, at some point, you may have been a witness to some form of human trafficking.
A SURVIVOR'S STORY
Donna Hubbard knows that all too well.  She is a flight attendant and a human trafficking survivor. For her, the slogan "See Something, Say Something" has real meaning.
"There are passengers and airport employees who may be witnessing human trafficking, but are so focused on getting to their destinations and working that they aren't really seeing what they're looking at," she said.
Hubbard was born in Atlanta and grew up surrounded by love. But, as a result of her religious tenets, she was married in an arranged union at the age of 16 to a man twice her age. By her early 20s, she had been married and divorced twice with three children.
In 1978, she joined Alleghany Airlines as a flight attendant. During a flight early in her career, she met a professional athlete in an encounter, and that changed the course of her life.
"I was young, gullible, naïve, searching for love and thought I found it," Hubbard shared. "I fell in love with him, and he experimented with a lot of drugs and many other things. I ended up in the hands of a pimp. He traded me for drugs and money, and when I tried to get away, he realized he couldn't control me, so he traded me to a gang."
That's when the threats began. Hubbard's traffickers told her that if she refused to do as she was told, one of her children would be forced to instead. So, she said that she did what she had to, to stay alive.
"I was afraid, ashamed, and didn't know what to do or where to turn," she said. "So, I did what I thought was best to protect my children and myself."
Experts say human trafficking deprives millions of people — men, women, and children — their freedom and dignity. It is an enterprise that generates roughly $150 billion annually.
"Not all of the people entangled in human trafficking are kidnapped. For me, it was coercion," Hubbard explains. "My way out was to end up going to prison," Hubbard, now a 62-year-old mother of eight explained.
"It was my only way out because they were never going to leave me alone. It was in prison that I finally got free because it gave me a chance to find myself, regain my self-respect, and time to think about my life and how I ended up in there."
ATLANTA TAKES A STAND
Four months after being sworn in as the 60th mayor for the City of Atlanta, Keisha Lance Bottoms turned her attention to combating the problem. She appointed Oulèye Ndoye Warnock as the senior human trafficking fellow for the City. One of her top priorities includes a strong focus on vulnerable populations.
"Trafficking is a global problem, and vulnerable populations are often overlooked because trafficking occurs in the dark, so bringing this issue to light and supporting survivors by ensuring that the City has the resources they need to exit and end a cycle of re-entry is extremely important," Warnock explained.
The City of Atlanta is not in this fight alone. Hubbard is also making a difference. She founded Women at the Well Transition Center, which focuses, in part, on victims of sex crimes. To date, the organization has helped over 6,000 incarcerated and formerly incarcerated girls and women regain their lives, their families and their dignity.
In 2015, she returned to flying again. This time, as a flight attendant with American Airlines. And this time, perfectly positioned to help human trafficking victims and stop their traffickers.
"I was beaten and left for dead not once, not twice, but three times, and I'm still alive," Hubbard said. "Today I get to live, and I get to make a difference in other people's lives in every part of the world because I didn't give up."
Working in the aviation industry has allowed her to fulfill her life's mission of combating the global threat while educating and inspiring people from Kenya to Iceland, and even here at ATL. This past spring, Hubbard worked as a consultant with the Office of the United Nations (UN) High Commissioner for Human Rights and the International Civil Aviation Organization to establish Circular 352, which is a comprehensive guideline that airlines use to set up their protocols and training programs for cabin crew members to be able to identify and report human trafficking.
With nearly 104 million passengers annually, security officials say there has not been a single case of human trafficking at ATL to date.
"We partner with TSA, the airlines and other stakeholders to bring awareness to the masses," said Hartsfield-Jackson Director of Security Jan Lennon. "Combating human trafficking is critically important to ATL. From training our employees to educating everyone who walks through our doors, our mission is to make it very clear that humans are not for sale."