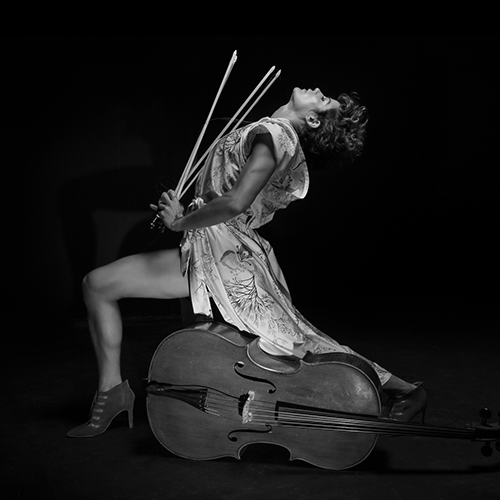 Jenn Cornell
Jenn Cornell
Jenn Cornell is a cellist performance artist that plays with a spirit that bursts into an ecstatic dance of instrument and body. The outcome is a sensation of joy that emanates from her performances and her instrument. Jenn attended the University of Georgia on a four-year music scholarship and completed advanced studies at the Academia Musicale Chigiana in Sienna, Italy. This led to her touring across the U.S., Europe and Asia, including the Seoul Arts Center and the Moscow International Auto Show. In addition, she held master classes at schools and universities including the Museum of Making Music in Carlsbad, California; Georgia Tech; and most recently at the Community Music Centers of Atlanta, where she mentors young musicians.
Jenn's performance career began with the highly successful guitar/cello duo Montana Skies, which toured for a number of years and was praised by presenters and fans alike. Montana Skies hit No. 1 on the World and Instrumental Music radio charts and was highlighted on national broadcasts, including NPR, Travel Channel and PBS, where they also composed and scored music for the broadcaster. Jenn has developed a new sound with percussionist Emrah Kotan and is taking her progressive music around the U.S. as she performs both acoustic and six-string electric cello to her own compositions with Emrah. Jenn has recently recorded for Michael Malarky of "The Vampire Diaries" on his new album and also recorded for rap artist B.O.B. In addition, she appeared on TV shows "Dynasty" and "The Vampire Diaries," where she performed cello on episodes for both.
Jenn has developed a new and mesmerizing sound with her cello and is grateful for the joy she brings in touching people's hearts with her music.