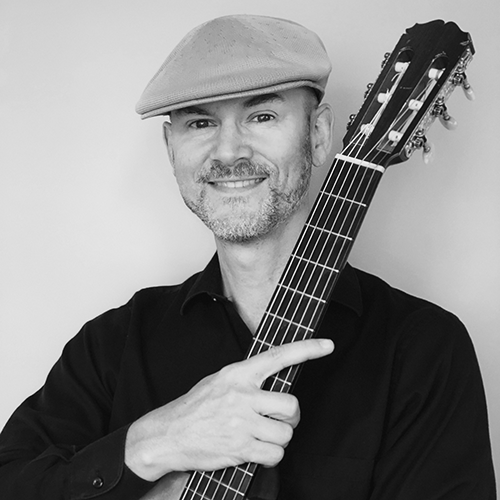 Jonathan Adams
Jonathan Adams
Jonathan started his career as a professional guitar musician performing for Pamplin Records, Intersound Records and his own label. He later co-founded the classical fusion group, "Montana Skies," and toured with the group nationally for over a decade. He currently creates healing music and performance music for all.
His 1998 debut CD release, "Guitarist," was met with critical acclaim. To date, Jonathan has produced five full-length albums. These include releases for Intersound Records, Pamplin Records, Mel Bay Publications, as well as independent releases on Sonic Grapefruit Records. Jonathan's original music has also been featured on PBS, NPR, and most recently in a score for a documentary on the life of Sen. Jay Rockefeller on West Virginia Public Television.
Jon also frequently gives talks and workshops on sound therapy and wellness, which include appearances at TedX, National Spiritual Living Conference, GA State Social Workers Conference, Emory Wellness Center, Wigwam Wellness Festival and many more. In only a few years, his sound therapy tracks have received millions of plays online, and can be streamed on YouTube, Spotify, SoundCloud and the Insight Timer app. They are also used by Gold's Gym nationally for their Centergy yoga classes. He continues to explore ways in which sound as therapy can help people to relax, de-stress, enjoy deeper meditations and feel great overall.
Jonathan discovered sound as therapy after his experiences and recovery from anxiety. As a touring musician, he knew the power of music to move our emotions, but soon understood its potential as a healing force. Since then, he has used his intuition, experiences and studies to explore the role of sound and music in the healing arts and create new ways for people to relax, enhance self-healing, self-awareness, focus and creativity.