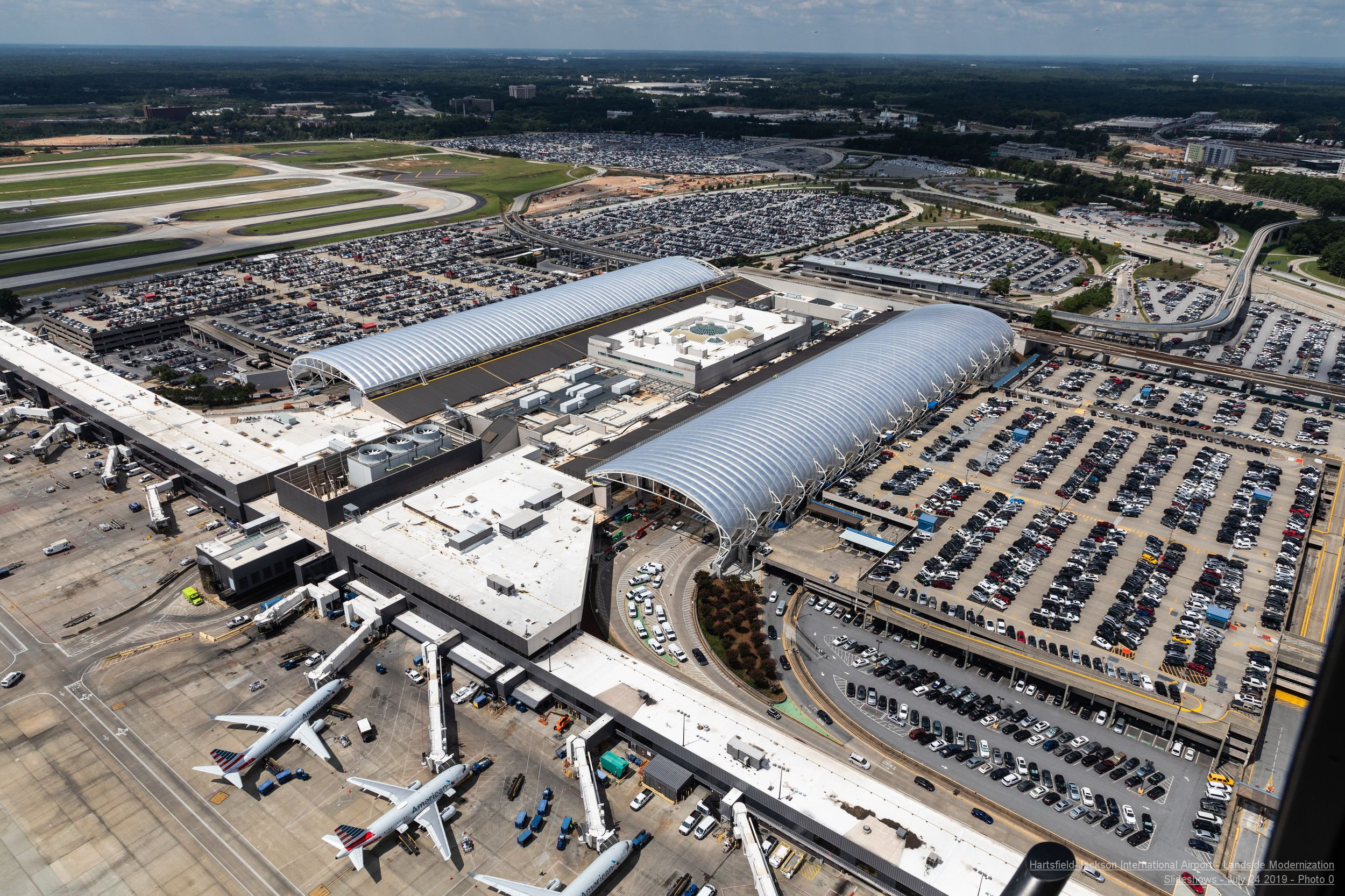 ATL: VIEWS FROM THE TOP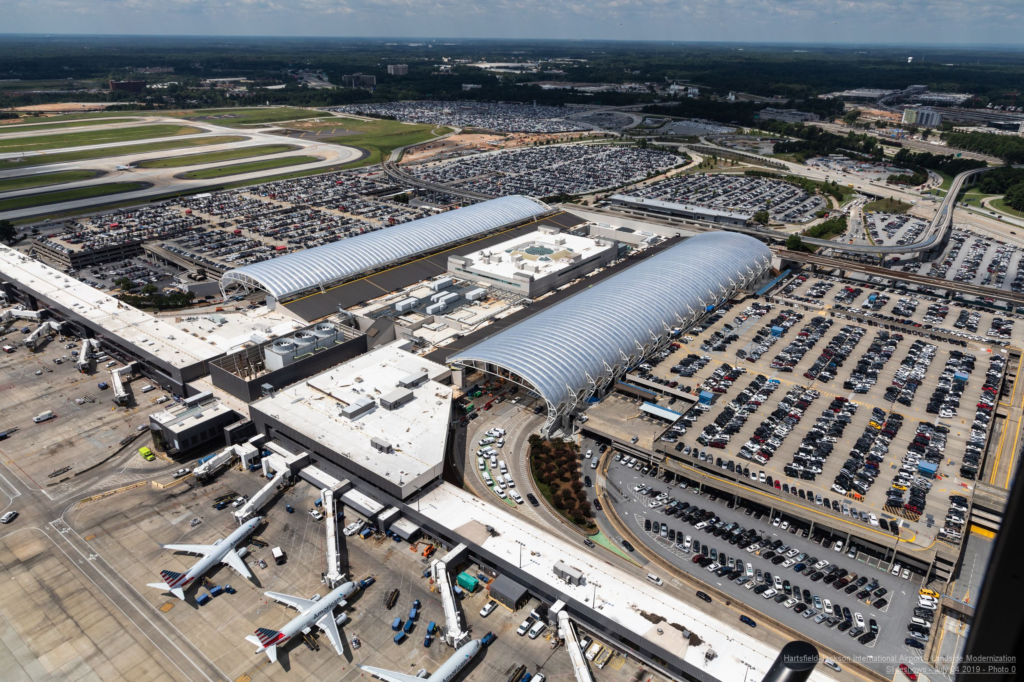 By Jennifer Ogunsola
Communications Manager
For all of the iconic structures that enhance the beauty of Atlanta, few are as unique and captivating as Hartsfield-Jackson Atlanta International Airport, aka ATL.
With roughly 900,000 flights in and out of ATL annually and over 107 million passengers on those flights, ATL is busy (in fact, it's the busiest in the world). But beyond those impressive numbers is the facility itself, and its abundant beauty.
Its breathtaking views abound. For many, it starts with taking in the entire 4,700-acre complex during takeoffs and approaches to land. For others, it is walking between Concourses A and B instead of hopping on the Plane Train and experiencing Flight Paths — the Airport's 450-foot underground notable art installation by artist Steve Waldeck. Or it may be a night drive along Interstate 85 South and admiring the newly constructed canopies (illuminated with 3,708 LED lights); the breathtaking views are endless.
Yes, we get it that most people are passing through to catch a flight or greet a loved one. It makes sense you are preoccupied with travel plans and unaware of the beauty in and around ATL. Moreover, navigating this massive complex of 192 domestic and international gates and over 300 shopping, dining and service locations can sometimes be overwhelming for anyone.
Don't worry. We've got you covered. We have culled the best-of-the-best views – as so determined by ATL's top executives – to give a sampling of some of our million-dollar views just for you.
The best part is that once you see these fantastic views, you'll most likely be inspired to arrive a little early the next time you're at ATL. Remember to pause and take it all in. When you do, don't forget to snap a picture of your favorite ATL view, and then share it with us by tagging us @atlairport and using the hashtag #myATLviews.
TOP 5 ATL VIEWS
Stogner Hill
FUN FACT:
Formerly Radar Hill, in 2016, it was renamed Stogner Hill in honor of the late James Stogner, the retired assistant general manager who devoted more than 40 years to the Airport.
Air Traffic Control Tower (views from)
FUN FACT:
Hartsfield-Jackson has the tallest air traffic control tower in North America (398 feet or 121 meters) and is the fourth tallest in the world.
The Maynard H. Jackson Jr. International Terminal Large Airy Glass Window View
FUN FACT:
The Maynard H. Jackson Jr. International Terminal aka Concourse F was one of the filming locations for the 2017 Warner Bros. comedy, "Father Figures" starring Owen Wilson, Ed Helms, and Glenn Close.
Flying over the Canopies
FUN FACT:
The canopies are 65 ft tall, 195 feet wide, and 3 football fields long.
Air Traffic Control Tower (views of)
FUN FACT:
Known as "The Cab"— the top of the FAA air traffic control tower—gives you a   one-of-a-kind, 360-degree view of taxiways and runways.
TOP ATL VIEWS FROM TOP ATL EXECS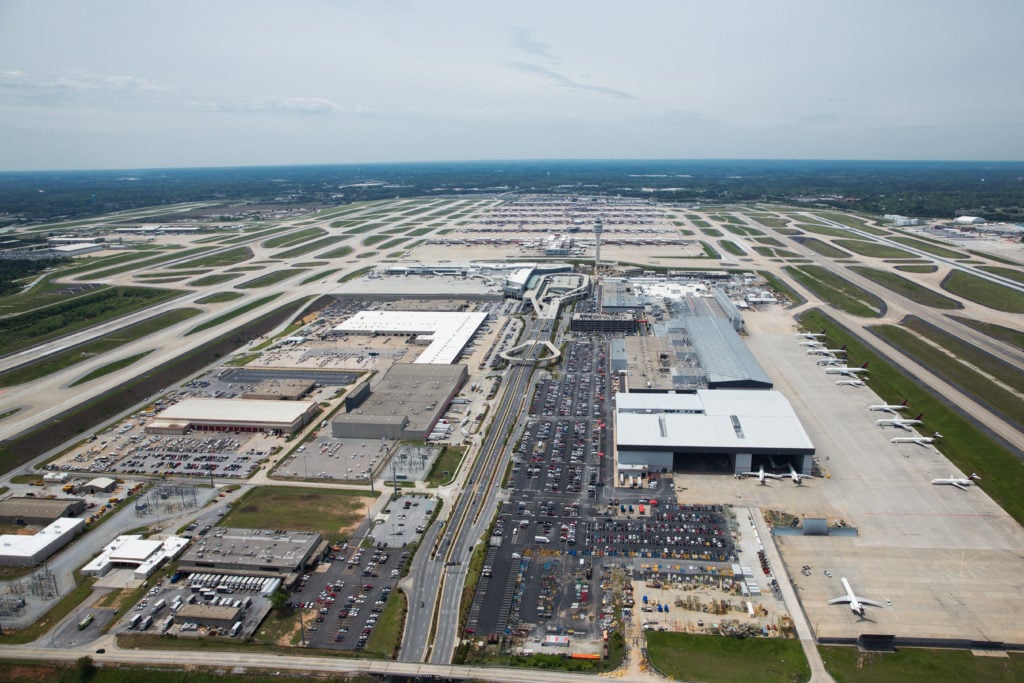 The best view is from the Air Traffic Control Tower. You can see how the Airport is the heart of the Atlanta region.

—John Selden, Airport General Manager

Top of the FAA Tower on the outside.

— Michael Smith, Airport Deputy General Manager, Administration

On Stogner Hill enjoying the sunset view of the South Complex and in awe of the steady flow of landing aircrafts.

—Balram Bheodari, Airport Deputy General Manager, Operations

The southern end of the South parking deck overlooking the entire airfield of 9L/27R, 9R/27L, and 10/28.

—Greg Richardson, Chief Financial Officer

My favorite view of the Airport is from the Air Traffic Control Tower. It's a 360-degree panoramic view of the World's Busiest Airport. It doesn't get any better than that!

— Bryan Benefiel,  Assistant General Manager, Finance and Accounting

My favorite view of the airport is from the window wall at Gate F14. It's a perfect view of the FAA control tower.

— Paul Brown, Assistant General Manager, Commercial Development

I would say that my favorite view at the airport is a window at an airline carriers gate, which lets me know that I'm getting ready to hit the blue skies. While sitting there, it puts me in a moment of relaxation and exploring.

—Sharon Herd-Brown, Assistant General Manager, IT Operations

As I'm flying over the Airport at night during touchdown, or arrival, the canopies when they are lit in another color [scheme other than white]. The red, white and blue [for Memorial Day and Labor Day] and all blue [in January for Human Trafficking Prevention Month].

—Jan Lennon, Assistant General Manager, Safety and Security

Stogner Hill is a great location.  From there, not only can you see concourses, gates, ramps, runways, taxiways, and aircraft, but you can also hear the arriving and departing flights.

— Paul Meyer, Assistant General Manager, Planning and Development

The best view is on top of the fourth floor, outside, next to the Atrium glass enclosure.  The best time to be up there is at night during an arrival push.  It has to be spring or fall when the sky is clear, and the humidity is lower.  During an arrival push, you see aircraft coming from all four directions.  The sky is filled with airplanes.

—Tom Nissalke, Assistant General Manager, Planning and Development