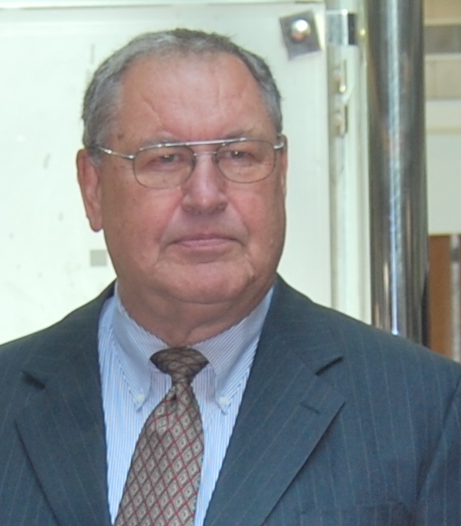 ATL remembers aviation giant George Berry
By Doug Strachan
Innovation & Strategic Business Development Manager
When then-Mayor Maynard Jackson sought a dynamic, capable leader to guide construction of what would become the world's busiest airport, he knew exactly who he wanted – George Berry, a high-powered but affable executive at Cousins Properties. Berry answered the call and agreed to leave the private sector to become Atlanta's Commissioner of Aviation in 1978.  Berry, an aviation legend in Atlanta, passed recently at the age of 82.
In 1978, after years of planning, the future of ATL's midfield terminal—crucial to the expansion of not only the national airspace system, but also the growth and prosperity of the Atlanta region—was in question.  Elected in 1973, Maynard H. Jackson, the first African American mayor of a southern city, boldly enacted a moratorium on any further midfield terminal development, contingent on a detailed plan for greater minority participation. Mayor Jackson needed an empowered, bold and willing airport team to construct a new airport that was built not only with steel and concrete, but also with diversity and inclusion. Mayor Jackson appealed to George Berry to leave the private sector and join his team as Commissioner of Aviation.
As one writer phrased it, whether he was working for the City of Atlanta, the state of Georgia or for Cousins Properties, Berry was one of the most influential leaders in the state for several decades — beginning in the 1960s and on through the 2000s.
After joining the Airport team, he and Mayor Jackson collectively asked another giant to join forces as Deputy Commissioner in charge of the Airport midfield construction program. Richard Stogner, who passed recently at 76, accepted the challenge. Together, they effectively assumed responsibility for the City's largest-ever construction project in the center of what was then the second busiest airport in the world. Both men had a long career of City of Atlanta public service, in a number of progressively more responsible capacities.
With their challenge clear, Berry and Stogner achieved a brand new ATL — on time and within budget — while setting records for significant minority and small business participation. Berry and Stogner also played an indispensible role in generating equal opportunities at ATL in airport concessions, helping to create the contractor and subcontractor paradigm still used today.
George Berry, who was born July 5, 1937 and passed Sept. 7, served the City of Atlanta initially from 1962 to 1974, and again as Commissioner of the Department of Aviation from 1978 to 1983.  Richard Stogner, born Feb. 26, 1943 and passed July 28, 2019, served the City of Atlanta from 1969 to 1983, and as Deputy Commissioner of the Department of Aviation from 1978 to 1983.
These two aviation giants will long be remembered for their mark on what is now Hartsfield-Jackson Atlanta International Airport.