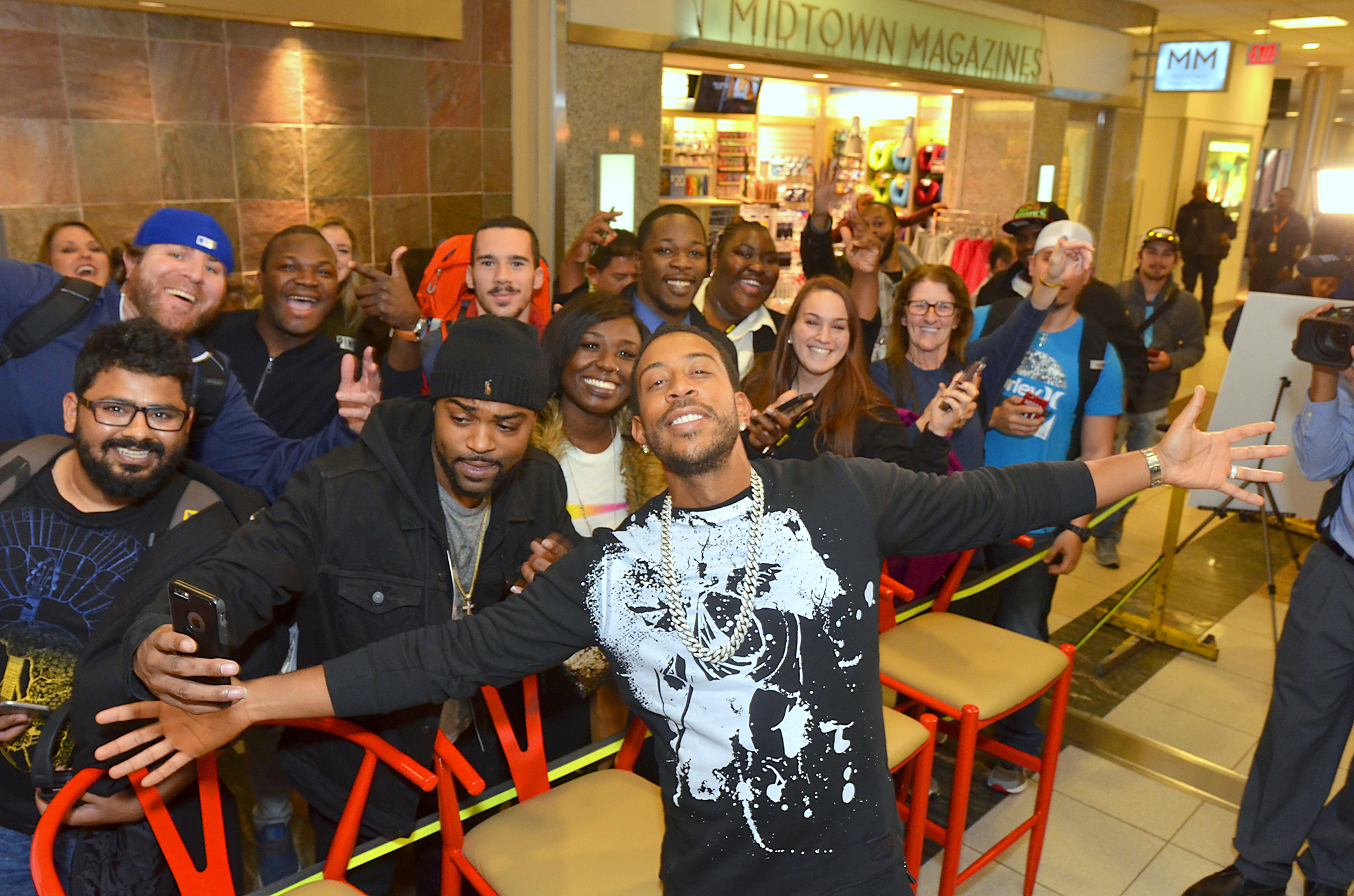 'Ludacris' opens first Airport restaurant Chicken + Beer
By Anika Robertson
Senior Editor / Assistant Public Relations Manager
Hartsfield-Jackson Atlanta International Airport (ATL) leaders joined Chris "Ludacris" Bridges and executives from Jackmont Hospitality Inc. to celebrate the opening of Chicken + Beer on Dec. 12 at ATL.
The restaurant, named for Ludacris' third studio album, is Jackmont Hospitality's second independently developed concept at the Airport following One Flew South, which opened nearly a decade ago.
Located near gate D5, the 90-seat restaurant serves Southern-style comfort food and locally sourced craft beers in an upbeat, modern atmosphere complemented by bold artwork, a marble bar and comfortable seating. It offers unique takes on Southern classics such as shrimp and grits and battered catfish as well as beers from established and up-and-coming breweries.
"As of today, Chicken and Beer isn't just a three-time platinum album; it's also a brand for food," Mayor Kasim Reed told onlookers before the ribbon-cutting. "Things just get better and better and better, and Chicken and Beer is the next phase of excellence for Hartsfield-Jackson."
Interim Airport General Manager Roosevelt Council, Jr. also expressed appreciation for the new eatery, which aligns with the Airport's priorities for award-winning concessions and guest relations.
"We're thrilled this partnership has found a home at the world's busiest and most efficient airport," he said. "One of the Airport's strategic priorities focuses on enhancing the guest experience. We accomplish this by delivering outstanding food and beverage options. Another strategic priority is marketing our region as an exciting tourist destination by providing our connecting guests – those travelers just passing through ATL – with the sights, sounds and, in the case of Chicken and Beer, Southern-style comfort food and a cold brew all reminiscent of our region."
The concept has been nearly six years in the making with Bridges's team and Jackmont Hospitality, which owns and operates restaurants on behalf of Atlanta Restaurant Partners.
"One thing we wanted to do was … to continue what we were able to accomplish [at One Flew South]," said Jackmont CEO and co-founder Daniel Halpern, referring to the desire to drive a premium guest experience. "We wanted to continue that chef-driven mindset."
Bridges shared his "proud moment" with his fans on Twitter and Instagram with the #chickenandbeer hashtag.
"I appreciate all the fans so much for supporting me in every endeavor and everything that I do because I've been diversifying businesses for a long time," he said. "It was because of you that this started as an album, a triple-platinum album, and now has become a restaurant inside the busiest Airport in the world. So follow your dreams, continue to do what's in your heart and work hard at it, and I guarantee you can accomplish anything."
Bridges has tested everything on the menu but predicted that his namesake entrée, Luda's Chicken & Pecan Waffles with whiskey maple, may become the most popular item. Chicken + Beer opened to the public Nov. 17 and operates daily from 6:30 a.m. to 10:30 p.m.