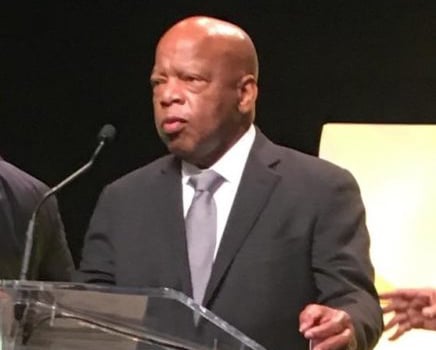 Rep. John Lewis to sign copies of bestselling trilogy "March" at ATL
By Anika Robertson
Senior Editor/Assistant Public Relations Manager

Congressman and civil rights icon John Lewis will be at ATL this Friday, Feb. 24 signing his award-winning "March" trilogy, a graphic novel designed for young people to learn about the civil rights movement through an eyewitness account. The signing will take place at Shellis News in the Domestic Terminal atrium at 2 p.m. and Simply Books on Concourse A at 3 p.m. Books will be available for purchase at the event.
Since 1986, Lewis has represented Georgia's 5th Congressional District and is one of the key figures of the civil rights movement. Monday night, the Hyatt Regency Atlanta honored Lewis for his lifetime dedication to human rights as part of their 15th annual Heritage Celebration.
Rep. Lewis was born the son of sharecroppers on February 21, 1940, outside of Troy, Alabama. He grew up on his family's farm and attended segregated public schools in Pike County, Alabama. As a young boy, he was inspired by the activism surrounding the Montgomery Bus Boycott and the words of the Rev. Martin Luther King Jr., which he heard on radio broadcasts. In those pivotal moments, he made a decision to become a part of the civil rights movement. Ever since then, he has remained at the vanguard of progressive social movements and the human rights struggle in the United States.
As a student at Fisk University, John Lewis organized sit-in demonstrations at segregated lunch counters in Nashville, Tennessee. In 1961, he volunteered to participate in the Freedom Rides, which challenged segregation at interstate bus terminals across the South. Lewis risked his life on those Rides many times by simply sitting in seats reserved for white patrons. He was also beaten severely by angry mobs and arrested by police for challenging the injustice of Jim Crow segregation in the South.
During the height of the Movement, from 1963 to 1966, Lewis was named Chairman of the Student Nonviolent Coordinating Committee (SNCC), which he helped form. SNCC was largely responsible for organizing student activism in the Movement.
While still a young man, John Lewis became a nationally recognized leader. At the age of 23, he was an architect of and a keynote speaker at the historic March on Washington in August 1963.
Despite more than 40 arrests, physical attacks and serious injuries, John Lewis remained a devoted advocate of the philosophy of nonviolence. After leaving SNCC in 1966, he continued his commitment to the civil rights movement as Associate Director of the Field Foundation and his participation in the Southern Regional Council's voter registration programs. Lewis went on to become the Director of the Voter Education Project (VEP), a member of Atlanta City Council and later congressman for the 5th Congressional District.
Read what other prominent leaders and publications have said about "March:"
"Congressman John Lewis has been a resounding moral voice in the quest for equality for more than 50 years, and I'm so pleased that he is sharing his memories of the Civil Rights Movement with America's young leaders. In March, he brings a whole new generation with him across the Edmund Pettus Bridge, from a past of clenched fists into a future of outstretched hands." – former President Bill Clinton
"March," the full trilogy, should be shelved in every school library across the land as towering achievement. – The Washington Post
"March" is "a fresh and sometimes shocking work" for its violence and offers an "inside look at the leaders of the civil rights movement." – NPR.org
It is an understatement to say that "March" is still relevant. – The New York Times
"Essential reading… March is a moving and important achievement… the story of a true American superhero." – USA Today
"A riveting chronicle of Lewis's extraordinary life… it powerfully illustrates how much perseverance is needed to achieve fundamental social change." – O, The Oprah Magazine
Segments reprinted from johnlewis.house.gov.