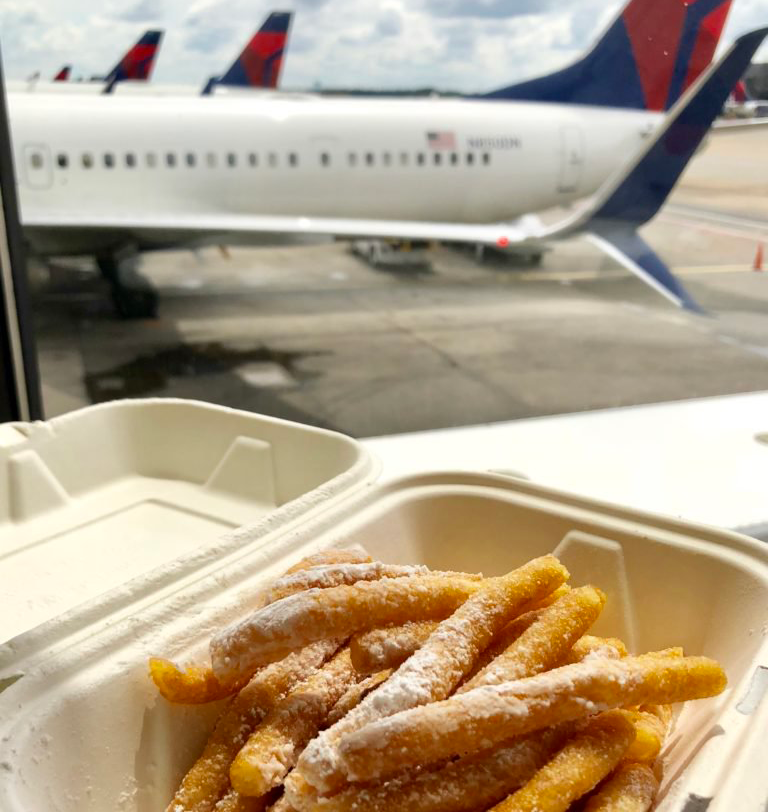 Backyard BBQ at ATL

By: Alnissa Ruiz-Craig
As we all recover from the Labor Day weekend, one thing I'm still longing for is some of that weekend barbecue food. Summer may be coming to an end, but if you're flying out of ATL, there's always an opportunity to enjoy your backyard cookout favorites–all year round.
Links Grill – C30

If you have a taste for a good grilled hot dog, Links Grill, located at C30, is the perfect place to tame your craving. Specializing in gourmet links, there are seven specialty entrees from which to choose.
I opted for the Classic Link, topped with ketchup, mustard and diced onion. It was full of flavor and gave that perfect snap when I bit into it. Head over to Links Grill and choose your favorite.

Shane's Rib Shack – Atrium 
With "rib" in the name, it's not hard to guess what my next stop was on my barbecue quest. Shane's Rib Shack, located in the Atrium, offers an assortment of delectable barbecue entrees like pulled pork, smoked chicken and their famous ribs. But what I want to focus on are the sides. Shane's has the perfect pairings for those saucy meat mains. Baked beans, coleslaw, fried okra, macaroni and cheese and the picnic favorite, potato salad. To accompany my half-rack of ribs I opted for my favorite baked beans and coleslaw combo. I just love the mix of the sugary, sweet baked beans with the cool, crunchy tang of the coleslaw. All of their sides are delicious so mix and match to suit your taste, you really can't go wrong.

Boardwalk Fresh Burgers – A Spine
This list wouldn't be complete without the perfect backyard-style burger. Boardwalk Fresh Burgers has plenty of options to choose from, from beef, turkey to veggie. Choose the "build your own burger" option and get unlimited toppings so you can have your burger exactly the way you want it. Feeling extra hungry? You can stack your burger with two or even three patties. The burger was juicy and delicious, but I'd be remiss if I didn't mention my favorite sweet treat on the menu – funnel cake fries! How good does that sound? Not exactly something you would have at a weekend barbecue, but definitely a summer sweet indulgence. Be sure to stop by and enjoy your favorite tastes of the summer season.