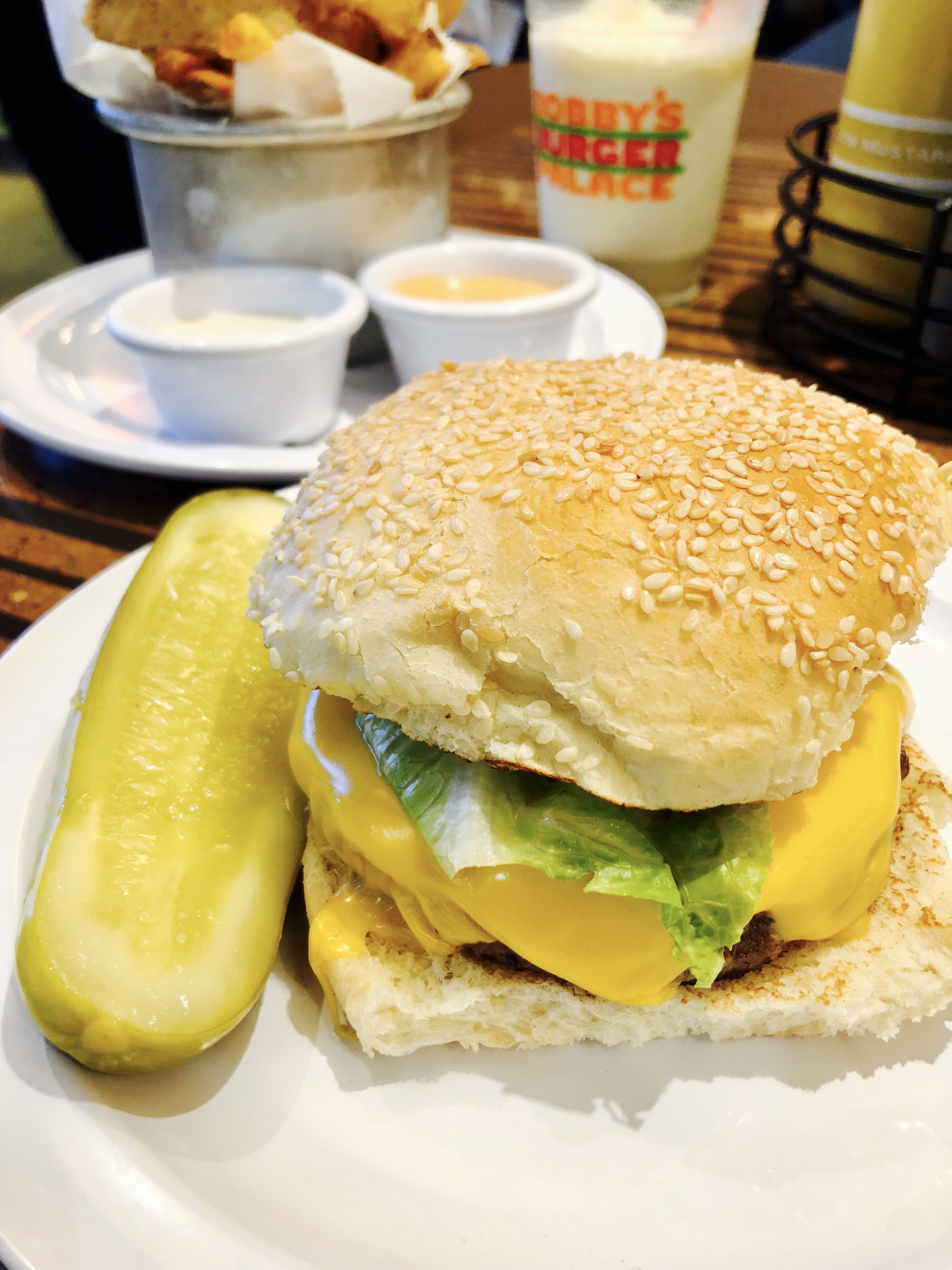 ATL's Burger Boom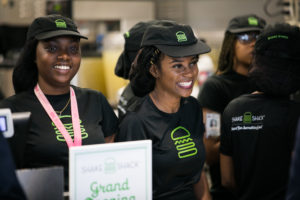 By: Alnissa Ruiz-Craig
October was a big month for burgers here at ATL. With the opening of two major burger chains, Bobby's Burger Palace and Shake Shack, your options for gourmet burgers just became twice as good!
Bobby's Burger Palace – Concourse B
The brain child of renowned celebrity chef Bobby Flay, Bobby's Burger Palace specializes in a wide variety of imaginative (and delicious) craft burgers, top-notch shakes and unique sides. The ATL location is the first in the City of Atlanta and the first in any airport in the country. The Iron Chef even added a signature burger for the airport called the "ATL Burger," so if you're flying out of ATL on Concourse B, you are really getting a special treat.
Let's talk about the menu. First, you get the option of beef, chicken or turkey so there is a little something for everyone, even a veggie burger for the "veg heads" out there. The menu boasts 11 signature burgers each with the option to "get crunchified" (having your burger served with crispy potato chips on top) free of charge. They have an impressive selection of what they proclaim are the "world's best shakes," and I don't claim to be the authority on milkshakes, but I can attest that the shakes at BBP are very, very good! When it comes to sides, they have classic fries, sweet potato fries and massive onion rings. I recommend you choose "The Undecided" options which allow you to choose two of the three to pair with your meal.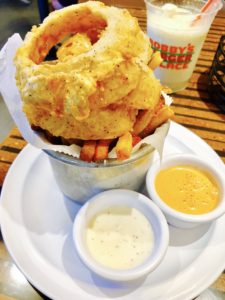 Chef Flay was on hand for the grand opening event and I had the awesome opportunity to chat with him about his decision to start a burger chain and why he chose Hartsfield-Jackson as his first airport location.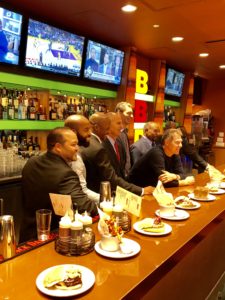 "Well, I'm a burger guy and I started Bobby's Burger Palace about 10 years ago," said Chef Flay. "We have close to 20 locations now and I always wanted to open somewhere in Atlanta. We found the perfect partners to do this with, and after about a year and a half of talking about it, we just decided to do it."
Of course I had to ask him about his favorite burger on this menu.
"Oh, the ATL burger of course! We're in ATL so you have to have the ATL burger. It's pimento cheese and crispy fried pickles. So it's sweet and spicy and a little bit crunchy."
Sounds like a winning combination to me. Be sure to check it out!
Shake Shack – Concourse A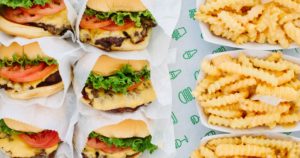 Another exciting grand opening took place this month with the opening of the famous Shake Shack. What started as a hot dog cart in Madison Square Park in New York City is now a booming burger chain with a cult-like following. One taste of their burgers and it will be easy to see why they have seen such success.
The menu is simple, but each item is fresh, well-made and full of flavor. I usually keep it classic with the ShackBurger and a side of cheese fries, but they have quite a few other delicious options including the "Chick'n Shack," a crispy chicken breast patty topped with lettuce, pickles and buttermilk mayo; a tasty "'Shroom Burger" for the vegetarians; and "Flat Top Dogs" as a nod to their humble beginnings as a hot dog cart. The menu also includes freshly spun, frozen custard shakes that are rich, creamy and delicious. I definitely plan on working my way through the menu … for research purposes of course.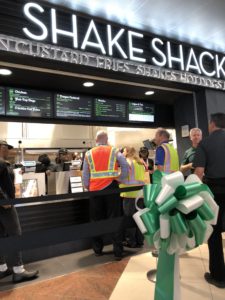 I got the chance to speak with Shake Shack's General Manager Brett Baisden about the grand opening of the first Shake Shack in Hartsfield-Jackson:
'It has been an amazing feeling, it's been about two years of waiting and finally it's come to fruition," said Baisden.
"It's been lots of hard work, but we've hired an awesome team and we're really excited to represent the brand and also bring something new and exciting to the Airport."
When asked what he recommends to someone who has never had Shake Shack:
"I recommend the 'SmokeShack.' It has Shack Sauce, cherry peppers and bacon and you can't go wrong with that. And a strawberry shake."
Bobby's Burger Palace and Shack Shack are two awesome additions to the ATL Skypointe program and I highly recommend you check them both out the next time you visit. You really can't go wrong.