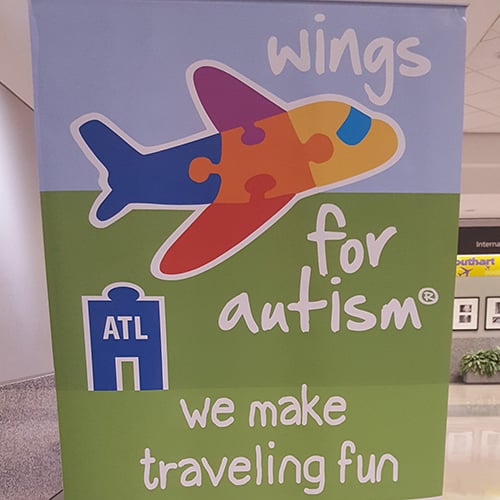 Wings for Autism acclimates children, adults to air travel
By Anika Robertson
Senior Editor/Assistant Public Relations Manager
Dozens of children and adults took their first "flight" April 12 with Wings for Autism, a dress rehearsal designed for individuals with intellectual and developmental disabilities, their families and aviation professionals at Hartsfield-Jackson Atlanta International Airport (ATL).
ATL hosted the second annual event in partnership with Delta Air Lines, the Transportation Security Administration, The Arc Georgia and The Arc of the Midlands.
"Air transportation is a critical part of our lives," Airport General Manager Roosevelt Council, Jr. said. "Many navigate through security, board planes and jet off to destinations near and far. While this is a normal routine for some, the air travel experience can be particularly challenging for children and adults with autism spectrum disorders."
Wednesday's event on Concourse E drew about 130 local individuals and families, who navigated the airport, maneuvered through security, boarded a Delta plane and toured the cockpit.
Wings for Autism facilitator and Delta pilot Eric Ries explained the "sensory overload" that affects individuals with autism, including his son.
"I've been all over the world. I've faced many challenges with mountainous terrain, language barriers, wind, rain, turbulence, all sorts of challenging and stressful situations," Ries said. "But I don't think it was as stressful sometimes as traveling with my son in the early stages."
"I noticed the hypersensitivity to smell, sound and light, the difficulty at the airport when traveling, the meltdowns on the airplane, and at first I thought it was the terrible twos, turning into terrible threes … Finally the diagnosis came … Now he's 10 years old, and I've traveled 45 times with him to many states and he does amazing."
Speaking to other families and learning through trial and error, Ries compiled tips for traveling with an individual with autism.
"The families that come are literally frightened and scared to death to get on an airplane," he said. "By the end of the tour, I can't tell you [the number of] empowering statements we get."
Launched in March 2016, Wings for Autism aligns with ATL's customer service initiative.
"Through collaboration, we continue to focus on providing a safe and secure environment for all passengers to create a memorable experience for all our guests," said Guest Relations Manager Carol Gaddis, who organized the event.
The Arc's national network promotes and protects individuals with intellectual and developmental disabilities and actively supports their inclusion and participation in the community.
"Wings for Autism was created by one of The Arc chapters to help a family in Boston who didn't think they'd ever be able to travel on a plane … and now it's a national event," said Stacey Ramirez, state director of The Arc Georgia. "I've seen … how it's changed our lives and opened a whole new world of travel and opportunity."
The program also prepares airport, airline, TSA and other personnel to interact with autistic individuals and deliver services in a structured learning environment.
"We want to ensure that all our Airport team members and partners are sensitive to the needs of those with autism," Council said. "With specialized training, our personnel will be able to recognize – and know how to handle – potential challenges with understanding, patience and support."